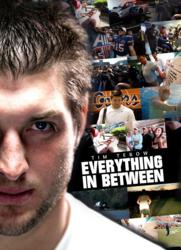 "We at Fiction are very proud and excited about the release of the DVD," said Heavener. "I'm happy that it coincided with being back on campus today to talk to Full Sail students."
Winter Park, FL (PRWEB) November 09, 2011
Today, the highly anticipated DVD - "Tim Tebow: Everything in Between," directed by Full Sail University graduate Chase Heavener - was released to audiences world-wide. The documentary aired this past January as part of ESPN's "Year of the Quarterback" series. In addition, Heavener returned to campus today as part of the university's 2011 Hall of Fame Week to celebrate the release and was the featured guest in a seminar on the "Business of Documentary Filmmaking."
The film chronicles Tebow's evolution from the end of the 2010 Sugar Bowl during his college career as quarterback for the University of Florida, through NFL Draft Day in 2010. The DVD, available at http://www.everythinginbetween.com, contains never-before-seen footage including an exclusive interview with Heavener, President of Fiction, the Winter Park based creative production company that produced the documentary, and Tim Tebow, NFL Quarterback for the Denver Broncos. The Q&A style interview, shot on the campus of Full Sail University, focused on the production and creative direction of the film.
"We at Fiction are very proud and excited about the release of the DVD," said Heavener. "I'm happy that it coincided with being back on campus today to talk to Full Sail students."
Additional clips of the interview filmed at Full Sail University are available at http://www.youtube.com/fullsailvideos.
About Fiction:
Fiction is a creative production company providing services from a wide array of talented professionals including storytellers, artists, writers, videographers and motion design specialists. Their services remain on the cutting edge of original content video production and web and video digital marketing strategies. Fiction's expertise has provided results for an extensive client list including Oakley®, Inc., and Red Bull® Energy Drink, ESPN and more. The company has also produced a wide variety of music videos and short-form documentaries.
For more information about Fiction, visit http://www.fctn.tv.
About Full Sail University:
Full Sail University is an award-winning educational leader for those pursuing careers in the entertainment and media industry. Founded in 1979, Full Sail has been recognized as one of the Top Five Game Degree Programs by Electronic Gaming Monthly, one of the Best Music Programs by Rolling Stone Magazine, and one of the Best Film Programs by UNleashed Magazine. In 2011, Full Sail received the "21st Century Best Practices in Distance Learning Award" from the United States Distance Learning Association, was named the "School/College of the Year" by the Florida Association of Postsecondary Schools and Colleges, and was recognized as one of the Top 100 Social Media Colleges by Studentadvisor.com.
Full Sail offers on-campus and online Master's, Bachelor's, and Associate's degree programs in areas related to animation, art, business, education, graphic design, film, marketing, web development, music, recording arts, sports, and video games. Full Sail graduate credits include work on OSCAR®, Emmy®, GRAMMY®, ADDY®, MTV Video Music Award, and Spike Video Game Award nominated and winning projects.
http://www.twitter.com/fullsail
http://www.facebook.com/fullsailuniversity
# # #