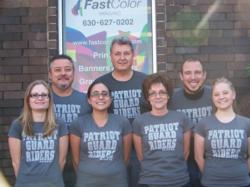 "The "Mission Shirts" campaign will successfully impact the lives of wounded soldiers and veterans."
Addison, Illinois (PRWEB) November 10, 2011
After involvement in foreign wars, many soldiers come back home wounded, both physically and emotionally. Organizations such as the Patriot Guard Riders pick up where the typical benefits leave off, by providing emotional, moral and often financial support to wounded soldiers and veterans. In an effort to raise $1,000,000 to support this cause, Patriot Guard Riders has teamed up with Fast Color in Addison, Illinois to launch a t-shirt sale campaign, called "Mission Shirts." From a distance, the t-shirts read "PATRIOT GUARD RIDERS," but the significance changes upon approach, as the shirts list the names of many fallen heroes whose funerals were attended and escorted by the Patriot Guard Riders, showing their unwavering respect.
The Patriot Guard Riders (PGR), a non-profit volunteer organization, was established in 2005 to honor and respect those who have risked their lives for America's freedom and security. The organization was formed in response to a movement by a controversial religious group to disrupt the funeral processions of fallen soldiers. Invited by the soldiers' families, the Patriot Guard Riders set forth to escort the fallen soldiers to their final resting place with dignity and without disruption.
The Patriot Guard Riders' volunteer organization soon realized that their efforts could not stop at escorting fallen soldiers to their gravesites, and soon instituted other programs to help families of fallen soldiers as well as soldiers wounded in combat and veterans. Patriot Guard Riders' programs are funded by donations as well as by proceeds derived from the sale of branded items, patriotic, military and motorcycle gear. The "Fallen Warrior Scholarship," for example, grants college scholarships to family members of those who perished in combat.
One of PGR's programs, "Help on the HomeFront" was established to provide emotional and financial support to those wounded in military combat as well as our nation's veterans. The program started as a grass root movement by PGR volunteer members who felt compelled to "do more"-- especially for the men and women who had returned from combat physically and/or emotionally wounded. Initially, PGR members visited hospitalized wounded soldiers, but soon realized that was not enough. A fund was created to aid those in need of financial help, from a wheelchair ramp for a disabled veteran's residence to travel funds for a soldier's family with limited resources. The "Help on the HomeFront" fund has even allowed for whole houses to be demolished and rebuilt to provide safe, accessible homes to veterans with disabilities.
Inspired by the selfless actions taken by the Patriot Guard Riders, Fast Color, a printing and fulfillment business, designed a line of T-shirts simply called "Mission Shirts" to raise funds to directly benefit "Help on the HomeFront." The soft-style charcoal-colored cotton t-shirts are available in men's and ladies' sizes from small to 3XL (men) and 2XL (ladies). Sizes small to XL are $20.00 per shirt, and sizes 2XL and 3XL are $25.00 per shirt. Shipping charges may apply. For each shirt that is sold, Fast Color will donate an additional $1.00 towards the "Help on the HomeFront" fund. The Patriot Guard Riders will also receive the profits from each shirt sold, for their general fund.
Both Fast Color and the Patriot Guard Riders trust the "Mission Shirts" campaign will successfully impact the lives of wounded soldiers and veterans.
For more information, please contact Joe Muschong at (630) 627-0202 or visit Fast Color's FCGearStore website.
# # #