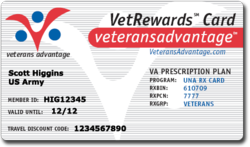 "As a former Army and Vietnam Veteran, I am grateful to have the opportunity to salute the brave men and women with whom I served, and who serve today with this special HBO entertainment offer
Greenwich, CT (PRWEB) November 09, 2011
In appreciation of U.S. military personnel's service to our county, Veterans Advantage announced today a special membership sale during the month of November. When purchasing an additional 36 months to their membership at the sale price of 50% OFF, Veterans Advantage members will receive free the first season of the HBO series Entourage.
Entourage has been nominated for 25 Primetime Emmy® Awards (winning 6), 14 Golden Globe® Awards (winning 1), six Screen Actors Guild Awards, four Producers Guild of America Awards–winning in 2006 — and four Writers Guild of America Awards.
"As a former Army and Vietnam Veteran, I am grateful to have the opportunity to salute the brave men and women with whom I served, and who serve today with this special HBO entertainment offer," said Scott Higgins, President & CEO of Veterans Advantage. "We thank HBO for providing this support to our members, making their continued participation even more valuable by adding to our robust benefits package."
Veterans Advantage honors military veterans everyday of the year with the VetRewards Card, delivering an exclusive savings package from top patriotic companies, including Verizon Wireless, Continental, Amtrak, Greyhound, Dell, Apple, Overstock.com, Wendy's, Foot Locker, and HBO among others. Those eligible for enrollment have served the country in all branches of service, and in all periods of service, including National Guard, Reservists and family members.
"We're proud of the Veterans Advantage program as the first and leading universal card program to thank all who serve and their families," according to Paul A. Bucha, Medal of Honor recipient and a Veterans Advantage Advisory Board member. "As we enter the holiday season, our card members have the opportunity to realize significant savings on their holiday travel and shopping with easy access to real benefits they have earned with their service."
Whether traveling on business or pleasure, members receive $55,000 in emergency medical travel coverage and accident insurance, along with exclusive savings on merchandise and outstanding member services. Veterans Advantage offers one-three and five year plans for as low as 11 cents a day, which include over $800 in bonus benefits. New members can purchase a 30-day no obligation trial for only a $4.95 processing fee. For a list of benefits and more on the value of a Veterans Advantage membership for all who have served, go to VeteransAdvantage.com

Free DVD Offer cannot be combined with any other membership offers. Offer valid for current cardholders only. 50% discount when compared to Veterans Advantage's standard one-year renewal. Prospective members may enroll in a one- year plan and purchase the 3-year plan sale offer until November 22nd, 2011.
About Veterans Advantage
Veterans Advantage, founded in 1999 by a group of high-ranking military veterans, is the leading card membership program offering exclusive benefits for the more than 90 million qualifying Americans from a nationwide network of retailers and service providers across the U.S. The program's mission is to deliver greater recognition, respect and rewards as a thank you for service to the country through the VetRewards Card, a universal military service ID card, and in its partnerships with patriotic companies.
Learn more at: http://www.VeteransAdvantage.com.
©2011 Home Box Office, Inc. All Rights Reserved. HBO and related trademarks are the property of Home Box Office, Inc.
###