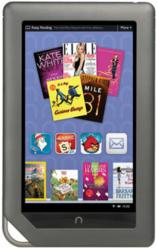 Dallas, TX (PRWEB) November 11, 2011
Weldon "Reed" Allmand, managing partner of Allmand Law Firm, is launching a social media contest to get people talking about a subject that many consider taboo. The contest is titled "Times are Tough – Win a NOOK" and asks followers to use the Hashtag "#DallasBankruptcy" in a tweet along with a bankruptcy related question. One winner will receive a NOOK e-Reader and five others will receive a Bankruptcy Information Packet that includes CDs, DVDs, and two books written by Reed Allmand himself. The winners will be announced on December 9, 2011.
"Times are Tough – Win a NOOK!" is the first social media contest launched by Allmand Law Firm. Allmand is always looking for ways to stay connected to the community and also give people a chance to talk about the sensitive subject of "bankruptcy."
Reed Allmand has been handling bankruptcy cases in the Dallas, Fort Worth Metroplex for over ten years and has used many media outlets, such as newspapers, radio and TV, to make information available to the public. Times are changing and the way information is delivered is changing as well.
"Using Twitter and Facebook, as well as the Allmand Law website, is a great way to increase our social network. It will allow followers to ask questions and learn more information about a subject that most people shy away from but more people need to know about in today's economy," Reed Allmand said.
The contest will run thru December 8, 2011. To follow Allmand Law on Twitter and to submit a question go to http://twitter.com/allmandlaw. All qualified entries submitted before the December 8th deadline will be entered for the drawing and the winners will be contacted on December 9, 2011. To learn more information about the contest and rules please visit the contest quidelines.
Reed Allmand serves as a member of the American Bar Association, the State Bar of Texas, the Tarrant County Bar Association, and the Dallas Bar Association. Due to his years of experience, he commands high esteem in the courts and handles large volumes of bankruptcy filings each year. Mr. Allmand has devoted his career as an attorney to helping people manage their finances and became certified in consumer bankruptcy by the Texas Board of Legal Specialization in 2005. At Allmand Law, Mr. Allmand and his associates meet their goal of "helping good people get a fresh start" by helping them file for Chapter 7 and Chapter 13 bankruptcy. Mr. Allmand can assist individuals in making the best decisions regarding which kind of bankruptcy to pursue and how to protect their assets. He focuses on providing clear, informed guidance to clients while remaining sensitive to the particular challenges of their situations.
# # #