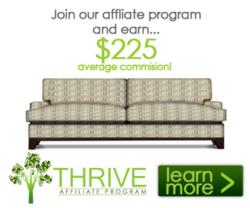 Los Angeles, CA (PRWEB) November 10, 2011
Thrive Furniture, a high-end mid century modern furniture manufacturer, has implemented a new affiliate program designed to help connect people with products. Anyone can sign up to be a Thrive Furniture affiliate. This position is a lot like a sales associate at a high-end retail store, except pay is entirely on commission rather than an hourly wage. This web-based sales affiliate model still manages to give salespeople a hefty chunk of the profit, however. Affiliates earn a 15% commission on every referral.
Who is Thrive Furniture?
The mission of Thrive Home Furnishings, a Los Angeles-based home furnishing company, is to re-popularize eclectic mid-century modern furniture for contemporary consumers. All of Thrive Furniture's products are made in the USA, and the company is committed to eco-friendly processes and materials in every piece of furniture it makes. With a focus on high-end design at eminently reasonable prices, Thrive Furniture is committed to providing customers with a positive furniture-buying experience. Affiliates can also stand behind the company's lifetime guarantee, which may help potential customers make the plunge and buy furniture that will never go out of style or repair.
Thrive Furniture is also noted for its easy-to-use website and forward-thinking internet marketing strategies. A professional web presence, smooth online browsing experience and customer service team have also received praise from nearly 45,000 satisfied customers over the past several years.
How Does the Thrive Furniture Affiliate Plan Work?
Thrive Furniture executives say this about the affiliate plan: "We've created a great opportunity for website owners in the mid century modern niche to make extra income. With an average commission of $225, the numbers add up quickly." said Joshua Stellin, Director at Thrive. Aimed at sales professionals who want to make a little extra cash on the side, affiliates advertise Thrive Furniture in whatever way they like, whether on their websites, through direct emails to friends, chatting at parties or on social media. The means is unimportant, though Thrive Furniture suggests making use of social networks like Facebook to reach as wide an audience as possible.
Each affiliate receives a personalized link. If a customer clicks on the link, they will be taken directly to the website. If that customer ends up buying the product, the affiliate will receive 15% of the profits. Even if the customer closes the window and re-opens it to buy the product later, the initial affiliate will still receive 15% of the profits. This provides incentive for affiliates to spread the word around as much as possible so people will visit Thrive Furniture. Commissions are paid monthly via PayPal or standard paper check.
Affiliate Program a Success
An all-American company takes on the world of Internet and social media marketing and launches a new program to take advantage of people's desire to share quality products with one another. Affiliates receive extra cash at a time when they most need it. Customers get high-quality crafted furniture at reasonable prices. From the looks of it, Thrive Furniture's affiliate program is a great deal for everyone involved.
###