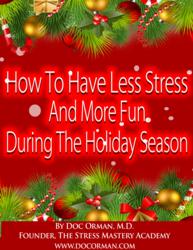 Baltimore, Maryland (PRWEB) November 10, 2011
Doc Orman.com is pleased to announce that Holiday Stress Relief, a new Facebook page by Mort (Doc) Orman, M.D., is now available. This page contains a free PDF e-book that provides timely information about how to reduce stress during the upcoming holiday season.
In an interview, Doc Orman said: "We are pleased to launch this new Facebook Page. While the holidays are supposed to be a time of great joy and celebration, it can also be a time of considerable stress for many people."
According to Doc Orman, just by visiting and "liking" this page, you can immediately download a free 32-page PDF called "How To Have Less Stress And More Fun During The Holiday Season." This free holiday stress relief resource does not require an email or any other type of registration to obtain.
"Already, within less than a week, more than 700 people have visited this page and downloaded this free holiday stress e-book," commented Doc Orman. "Not only does it help reduce stress during the holidays, but it also contains important information and coping advice about how to relieve stress all year long as well."
###