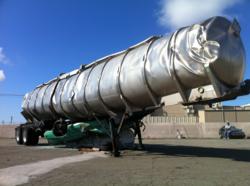 Dunsmuir, CA (PRWEB) November 09, 2011
FireWhat was on-scene as seventy firefighters from around the state of California were trained in the exciting but dangerous work of auto extrication, pulling dummies out of all kinds of simulated car wrecks. From the "simple," single-car scenario to multiple vehicles of all sizes piled in with poles, concrete railings, and power transformers, the class had a chance to work as a team addressing incredibly complex vehicle rescue operations in a safe and productive manner.
Holmatro-FS3 puts on several classes each year around the West. This type of incident is all too common, and firefighters need regular training, so when the bell calls, they are not wasting precious time. The staff at FS3 is one of the most qualified training groups in the country, and is completely passionate about giving the highest level of firefighter training in the safest environment possible.
This past week was no exception. There was a scenario involving a two thousand pound tire. There was a cement mixer rolled on its side, with a car underneath. There was a tanker trailer, lying atop a crushed vehicle with occupants inside. The scenarios looked like movie sets, but were built on purpose: Every single situation recreated during the class had actually happened at one point. It doesn't get any more real than this, folks.
FireWhat will be producing firefighter training material with the footage taken from the class. This will be available at firewhat.com/training. For more information on Holmatro-FS3, check out their website http://www.holmatro-fs3.com/.
About FireWhat Inc.
FireWhat Inc. is a start-up company founded by an MIT grad and two professional firefighters. FireWhat's mission is to provide a professional platform that inspires the highest quality of emergency service training and education. Through development of web and mobile products, FireWhat Inc. seeks to update the antiquated delivery of emergency services training and to incorporate innovation into a technology-deprived industry.
###