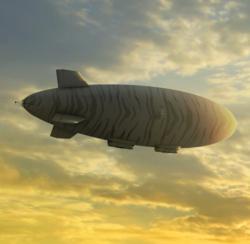 We're excited that Popular Science recognizes the tremendous advance in intelligence and surveillance provided by the Blue Devil Block 2 program.
Vicksburg, MS (PRWEB) November 16, 2011
Mav6 today announced that the Blue Devil Block 2 system—a long endurance airship integrated with advanced sensor payloads being built by Mav6 for the US Air Force – was named a winner in Popular Science magazine's 24th annual "Best of What's New" in the Aviation and Space category. Designed to stay aloft for 5 days at 20,000 feet altitude, the airship is equipped with advanced sensor, processing, and communications capabilities that will gather, filter, tag, and organize data in the air and transmit data of interest to analysts on the ground. "It could change the nature of overhead surveillance," said Mav6's CEO, retired US Air Force Lt. Gen. David Deptula. He continued, "We're excited that Popular Science recognizes the tremendous advance in intelligence and surveillance provided by the Blue Devil Block 2 program." When it flies in 2012, the 370-foot M1400 airship used on the Blue Devil Block 2 effort will be the largest unmanned aircraft ever to fly.
"For 24 years, Popular Science has honored the innovations that surprise and amaze us − those that make a positive impact on our world today and challenge our views of what's possible in the future." said Mark Jannot, Editor-in-Chief of Popular Science. "The Best of What's New Award is the magazine's top honor, and the 100 winners − chosen from among thousands of entrants − represent the highest level of achievement in their fields."
About Best of What's New
Each year, the editors of Popular Science review thousands of products in search of the top 100 tech innovations of the year; breakthrough products and technologies that represent a significant leap in their categories. The winners — the Best of What's New — are awarded inclusion in the much-anticipated December issue of Popular Science, the most widely read issue of the year since the debut of Best of What's New in 1987. Best of What's New awards are presented to 100 new products and technologies in 11 categories: Automotive, Aviation & Space, Computing, Engineering, Gadgets, Green Tech, Home Entertainment, Security, Home Tech, Health and Recreation.
About Popular Science
Founded in 1872, Popular Science is the world's largest science and technology magazine; with a circulation of 1.3 million and 6.8 million monthly readers. Each month, Popular Science reports on the intersection of science and everyday life, with an eye toward what's new and why it matters. Popular Science is published by Bonnier Active Media, a subsidiary of Bonnier Corporation.
About Mav6
Mav6 was established in May 2007 by Major General Buford "Buff" Blount, USA (Retired), and Mr. Adam Jay Harrison to fill a need in the global defense and security market for rapidly conceived, concept-to-implementation technology solutions to emerging global security challenges. Inc. Magazine recently named Vicksburg, Mississippi-based Mav6 to the Inc. 500 list of fastest growing privately owned companies in the United States.
###