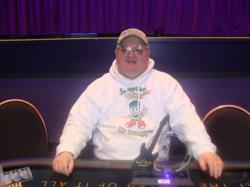 (PRWEB) November 10, 2011
Craig McDaniel, founder and president of Sweepstakes Today LLC, (http://www.sweepstakestoday.com) won the Oklahoma State Fall Limited Omaha Poker Tournament after more than eight hours of play on Halloween night, it was announced today. The tournament was held at the Hard Rock Hotel & Casino, Tulsa. (http://www.hardrockcasinotulsa.com) This is McDaniel's first state poker championship.
"Wow, what a great feeling" McDaniel in an interview following the event. "Nearly a year ago to the day I won a big weekly tournament at Caesar's Palace in Las Vegas but this was a bigger win for me in several ways. Omaha is a variation of Texas No-Limit Poker but the player gets four cards dealt instead of two. This makes the game more complicated and only the best players will enter," he explained. "The tournament also had 'rebuys' meaning that a player could buy additional chips making the tournament that much tougher to win."
"I went to the final table with a near the chip lead. In the first couple of hands later, another player went all-in and I called his bet and won," the Oklahoma resident continued. "From there, I stayed hot and won the whole thing."
Besides the trophy, McDaniel, also known as Mr. Sweepy to members of SweepstakesToday.com, won an undisclosed cash prize.
Asked which is more valuable, the trophy or the cash, McDaniel responded, "No question, the trophy. I play for the win first and the cash comes second." When asked if he considers himself professional poker player, he answered, "No, I enjoy being the President of Sweepstakestoday.com - the best job in America. Poker is just recreational hobby to me. I do, however, plan on defending my title next year."
The veteran poker player said of the venue, "The Hard Rock Hotel and Casino here in Tulsa is a very nice place to play poker and they are always professional in the way they treat their guests."
Sweepstakes Today LLC went live online in March of 2004. The leading popular online sweepstakes (Online Sweepstakes Link) site is based in Tulsa, Oklahoma and the custom Microsoft ASP/ASPX programming development is done in Salt Lake City, Utah.
###