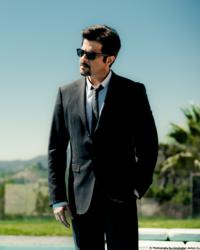 It will be a great honor for me to play Jack Bauer. Kiefer has created an iconic character which has inspired me to bring the franchise to India.
Los Angeles, CA (PRWEB) November 09, 2011
Following the worldwide success of the Academy Award-winning film, Slumdog Millionaire, actor Anil Kapoor (Millionaire host Prem) has finalized a deal with 20th Century Fox Television Distribution to make an all new, Indian version of the Emmy-winning Fox hit series '24.'
Kapoor plans to reprise the lead role made famous by actor Kiefer Sutherland in the Emmy-winning Fox drama. He will also produce using his team at Anil Kapoor Films Company with pre-production set to begin mid-2012 in India.
Kapoor notes, "It will be a great honor for me to play Jack Bauer. Kiefer has created an iconic character which has inspired me to bring the franchise to India. This will be my first foray to Indian television and I look forward to duplicating the standard of excellence Fox has so successfully created."
Kapoor made his American TV debut in the original series' final season, playing the middle eastern leader Omar Hassan who comes to the U.S. on a peace keeping mission.
"Anil's passion for the series goes back to his time as a guest star on the show, and we're excited to enable him to realize his vision of creating a new version of the series for his native India," commented Fox International Television President, Marion Edwards. "We hope this will pave the way for many more local versions of this brilliant series in other international territories."
As one of the most versatile and successful actors in Hindi Films, Anil Kapoor has entertained audiences for over 25 years. His talent and professionalism have set the benchmark for young and upcoming actors. He has performed in nearly 100 Hindi movies and won innumerable awards over the years. These include four "Filmfare" Awards (Indian equivalent of the Oscars®) and the much coveted "National Award" for PUKAR which he also produced.
Kapoor plays a supporting role as Brij Nath in the upcoming blockbuster Mission:Impossible- Ghost Protocol, set for release December 21st 2011.
'24' starred Kiefer Sutherland as the heroic Jack Bauer and was nominated for a total of 68 Emmy Awards, winning for Outstanding Drama Series in 2006. Over the course of eight seasons, Sutherland garnered seven Emmy nominations and one win for Outstanding Lead Actor – Drama Series.
Premiering November 6, 2001, 24 employed a pioneering split-screen, fast-paced format with complex interweaving storylines as viewers followed anti-terrorism agent Jack Bauer through 24 pulse-pounding episodes, each covering one hour and presented in real time. Subsequent seasons combined the show's unique and trend-setting format while delivering compelling new elements and attracting talented actors and guest stars, including the Emmy Award-winning Cherry Jones (President Allison Taylor) and Kapoor himself.
Created by Joel Surnow and Robert Cochran, 24 was a production of 20th Century Fox Television and Imagine Television in association with Teakwood Lane Productions.
Twentieth Century Fox is a subsidiary of News Corporation. News Corporation's diversified global operations include the production and distribution of motion pictures and television programming; television, satellite, cable and digital media broadcasting and transmission, the publication of newspapers, magazines and books; the production and distribution of promotional and advertising products and services; the development of conditional access and subscriber management systems.
PR Contacts:
Alexandra Villa
In House Public Relations
323.965.8887
Chris Alexander
20th Century Fox TV
310.369.2733
Cristina Mancini
20th TV Distribution
310.369.4597
# # #