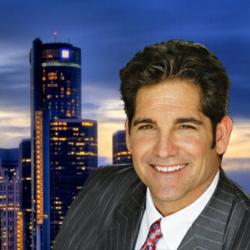 Los Angeles, California (PRWEB) November 09, 2011
New York Times bestselling author and international sales expert Grant Cardone will be in Detroit on December 13 to rev up the Motor City with a first of its kind "Master the Close" workshop. This will be a full-day seminar designed to revitalize each participant's purpose and teach achievers how to get what they want in life with 45 new closes.
"Like most Americans, I am rooting for a Motor City comeback but rather than hope, I am taking action by distilling all my years of creating success and motivating others into a one-day event," said Grant Cardone. "Given my extensive association with the automotive industry, I take a personal interest in this city. Detroit matters not only for its manufacturing might but also for the evolving venture capital high tech arena that will drive our new economy forward."
"We've put together an unprecedented seminar so that you can beat the competition and take the leap from where you are now to construct the life of your dreams," said Justin LeVrier, Executive Director, Cardone Enterprises Inc. "Nothing beats seeing Grant live and I suggest that each and every participant brace themselves for a pedal to the metal day of life changing adventure."
Participants of Grant's full day seminar will learn the secrets to taking massive action and creating lasting success. Grant will teach you:

How to close anyone, anytime, in any situation
Closes you can start using right away
What has been stopping you from getting to the close
How to control ANY customer situation
How to make more money regardless of the economy
The Secret Action Formula that will guarantee your success
Program details are as follows:
Date: Tuesday, December 13, 2011
Time: 7:30 a.m. – 4:30 p.m. / Full-day seminar
Location: TBA
Group discounts are available so bring a friend or your whole team along an unforgettable one-day-only-event. For more information on obtaining tickets go to: http://www.grantcardone.com/detroit or call: 800-368-5771.
Grant Cardone
Grant Cardone is New York Times Bestselling Author of If You're Not First, You're Last, the ultimate guide on Sales Strategies to Dominate your Market and Beat your Competition. He is an international sales training expert, providing sales training programs to Fortune 500 companies, an Internationally recognized Motivational Speaker and author of three other books including Sell to Survive, The 10X Rule, and The Closer's Survival Guide.
While regularly contributing to shows on Fox News, Fox Business, CNBC, MSNBC, and Bloomberg, Grant is also an executive producer and star of his own TV show on the National Geographic Channel, "Turnaround King", where he creates great change for the benefit of other businesses.
For more information, visit http://www.grantcardone.com or http://www.cardoneuniversity.com