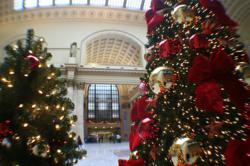 Chicago's landmark Union Station partners with TreeTime™ & The Salvation Army to create a beautiful artificial Christmas tree display.
Chicago, IL (PRWEB) November 30, 2011
TreeTime and the Salvation Army officially kicked-off the Christmas season at the 29th Annual Tree of Lights Ceremony in the Great Hall at Union Station with a beautiful display of artificial Christmas trees. This festive celebration included musical performances by the cast of "A Christmas Story" holiday musical, the Sounds of Sweetness a cappella group from Walter Payton College Prep High School and the Salvation Army Brass Ensemble. The Tree of Lights Ceremony culminated in the lighting of an 18 ft. artificial Christmas tree, donated by TreeTime Christmas Creations.
"We're very happy to be able to contribute our Christmas trees to this annual event and appreciate the city's acknowledgement of TreeTime ™ as one of Chicagoland's fastest growing companies for 2011. We have been blessed with an enormous amount success and postive feedback this Christmas season and will continue to partner with the Salvation Army in the years to come," says Nino Valles of TreeTime.
The Tree of Lights ceremony has been a tradition for the Salvation Army and Chicago for nearly three decades. This joyous kick-off to the Christmas season and the annual Red Kettle campaign, which generates nearly 70 percent of the funds used throughout the year to provide wonderful programs and services to people in need. The Salvation Army's iconic red kettles hit the streets the day after the event.
TreeTime Christmas Creations features more than 200 varieties of Christmas trees, as well as Christmas wreaths, garland, storage containers, accessories and other holiday décor. TreeTime artificial Christmas trees are designed exclusively by seasoned designers that understand the importance of style, beauty, reliability and quality craftsmanship. Owned and operated by Lake Zurich residents Joe and Laurie Kane, TreeTime products are available to customers across the country via online shopping, showroom, or phone orders.
The Christmas tree display can be seen at The Great Hall at Union Station,
210 S. Canal (Entrance on Jackson), Chicago, IL 60606
TreeTime's Showroom hours are: Monday, Wednesday and Friday 10:00am-6:00pm, Tuesday and Thursday 10:00am-8:00pm, and Saturday/Sunday 10:00am-5:00pm. Located at 22N102 Pepper Rd. Lake Barrington, IL 60010. For more information, please call 847.527.8880 or visit http://www.treetime.com.
###