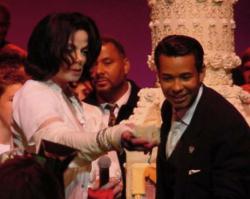 R.I.P. Michael Jackson. We will never forget you.
Hollywood, California (PRWEB) November 08, 2011
Raffles van Exel, President & CEO of Raffles Entertainment releases the following statement regarding the felony conviction of Dr. Conrad Murray:
"I'm very pleased that the jury in the Dr. Conrad Murray felony trial came back with the appropriate verdict. Although this guilty verdict cannot bring my friend and colleague Michael Jackson back, one can only hope that it will bring a sense of closure to Michael Jackson's family, friends, loved ones, and his beloved fans. I would like to thank Hon. Judge Pastor, the jury, L.A.P.D. and the Los Angeles District Attorney's office for their diligent work. I send my love to The Jackson family and Michael's fans from around the world.
"R.I.P. Michael Jackson. We will never forget you."
About Raffles van Exel
Raffles van Exel, CEO of Raffles Entertainment, LLC, is a highly respected entertainment consultant having guided some of the world's most acclaimed executives and celebrities: Actor Quinton Aaron from the smash hit The Blind Side with Sandra Bullock, Soul-Funk icon Chaka Khan, Peter Lamas CEO and founder of peterlamas.com, "Skin Diva" Christine Heathman of glymedplus.com, the late King of Pop Michael Jackson, Whitney Houston, Patti LaBelle, Lance Bass (Founding member of iconic pop group, N'Sync), Flavor Flav of the iconic rap group Public Enemy and of the "Flavor of Love" fame, George Benson, and the late Ray Charles. Raffles van Exel has produced for The Queen of Salsa - the late and great Celia Cruz, funk pioneer George Clinton, Sisqo, Nick Cannon, Howie Dorough (Founding member of Grammy nominated group, The Backstreet Boys), rap icon and actor Ice-T, and a host of other artists.
Dr. Conrad Murray
Cardiologist and personal physician. Dr. Conrad Murray was born February 19, 1953, in St. Andrews, Grenada. Michael Jackson hired him as a personal physician for his 2009 concert tour entitled, "This Is It." On June 25, 2009, Jackson died of acute propofol intoxication. Conrad Murray was charged with Involuntary Manslaughter in 2010. The lone charge was filed by the Los Angeles District Attorney's office in the Superior Court of California, Los Angeles. Case number: SA073164
Murray was found guilty of the involuntary manslaughter of Michael Jackson on November 7, 2011. He was remanded to custody without bail to await sentencing. Sentencing will take place on November 29, 2011.
For more information about Raffles van Exel and Raffles Entertainment, please contact pr(at)rafflesentertainment(dot)com
###