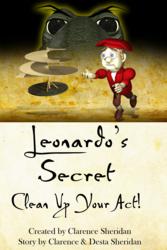 Every genius has to start somewhere!
Orlando, FL (PRWEB) November 09, 2011
Clarence & Desta Sheridan introduces Leonardo's Secret: Clean Up Your Act!, for eReader devices. View the Book Trailer and see a young Leonardo da Vinci, as a a busboy, who was asked to make turtle soup. One of the turtles begged for his life! It was Tuttle. Tuttle, tried to convince Leonardo that there is a big world out there, and he could show him all about it, if he would just take a chance.
This is the first in a series of children's fiction books. "Leonardo's Secret: Clean Up Your Act!" follows the life of "Tuttle the Turtle". A turtle who lived so long, he evolved into an independent thinking and speaking mastermind. Follow Tuttle as he influences many famous and sometimes infamous people throughout history.
Young Leonardo and Tuttle are faced with dilemmas that cause them to create wondrous inventions, so far ahead of their time, that no one else sees them for the grand ideas they really are. Through humor and chaos, Leonardo's inventions come to life, only to find out that everyone one else sees them for something different in the end.
Together, Leonardo and Tuttle embark on colorful and unpredictable adventures that allow for delightful family entertainment, while taking a fresh look at some of da Vinci's 6,000 most imaginative inventions!
Originally written as a screenplay, here are some of the KIDS FIRST! Adult Juror comments:
"Having a turtle behind his inventions is a humorous and creative way to get kids' attention. The last scene hooks you - when chaos reins and an invention is formed out of the disaster. Another hook - the tension when da Vinci thinks the turtle is getting baked. This is good, clean fun with a fun ending."
ISBN: 9780966386417
Pricing and Availability:
Barnes and Noble Nook and Amazon Kindle Version Features Include:

3D Artwork
Introductory Price $2.99 USD (or equivalent amount in other currencies)
Special iBook Store Enhanced Version Features:

3D Artwork
Animated sequences
Audio enhanced glossary
Special Apple iBook Introductory Pricing: $1.99 USD (or equivalent amount in other currencies)
All Online Stores have sample chapters available on their respective "Product Pages".
Clarence Sheridan - Creator and Author of Leonardo's Secret
Producer of BackStage starring Carol Channing CD-ROM game which was lauded in The New York Times, NPR and on PC Magazine's Top 100 List. Art/Show Director for Disney Entertainment. Winner Best Animation; Midwest Entertainment Film Festival for Techman. Other accomplishments include performing on Broadway for 5 years at Radio City Music Hall and in the Tony and Grammy nominated production of Hello, Dolly!, starring Carol Channing.
Desta Sheridan - Story Contributor:
Behind every good man is a woman who makes it so everyone can understand what he is doing...That would be Desta. Desta met Clarence while she was also performing in the Tony and Grammy nominated production of "Hello, Dolly!", starring Carol Channing. She also performed in London's West End in ShowBoat. Her best production to date are the 2 children she had with Clarence.
Copyright (C) 2011 Clarence Sheridan. All Rights Reserved. Apple, the Apple logo, iPhone, iPod and iPad are registered trademarks of Apple Inc. in the U.S. and/or other countries.
###