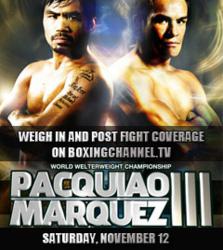 Full Coverage of Pacquiao-Marquez III on boxingchannel.tv
(PRWEB) November 09, 2011
Coverage can be seen at BoxingChannel.tv.
Hall of Fame Boxing Broadcaster Al Bernstein and Marcos Villegas anchor the coverage of the final press conference on Wednesday, the weigh-in on Friday and full and immediate coverage of the post-fight press conference following the fight on Saturday.
Throughout the week there will be interviews with boxing luminaries,predictions by boxing celebrities, and a keys to victory feature from Al Bernstein.
Log on to http://www.boxingchannel.tv after the match to get analysis and post fight interviews.
###