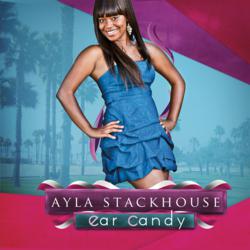 Ayla is an incredible talent, Winfrey Said
Chicago, IL / Los Angeles, CA (PRWEB) November 09, 2011
Following on the heels of an online web-site release of Ayla Stackhouse's well-received and self written single "Somebody Who Loves Me," her new single "Ear Candy" distributed by Chicago based KES Music & Video Distribution, will have listeners, young and old, dancing in the streets.
The dance tune was written by Gregory Coleman, and produced by Kevin "Kirv" Irving, a Grammy award winning producer with credits that include Dr. Dre, Timbaland, Pink, Mariah Carey and many others. Ayla, a native Detroiter, is a natural-born singing sensation fortified with operatic training, jazz chops, budding capabilities on four instruments (classical piano, guitar, cello and clarinet) and a passion for writing her own songs.
From age 12, the now 15 year old developed her studio chops under the tutelage of vocal coach/producer Frank "Toddy" Winfrey, who produced the cut "The Girl Next Door," on Ayla's upcoming EP.
"Ayla is an incredible talent," Winfrey Said. "Musically, she's amazing because she can do anything, for any age listening audience. There is no age limit for what she's got. I'm incredibly happy to have been the one to give Ayla her start in California. She's not only talented, but one of the sweetest kids you'll ever meet."
Ayla honed her performance lead vocals at such venues as Stevie's on the Strip and with The Doug Hurt and Friends Band, and lends her vocals, annually, to help cancer research for the City Of Hope.
"Ever since I was little I've been watching Disney Channel and Nickelodeon," Ayla (pronounced "A-Luh) says with a laugh. "I also love opera and my father – who's also a singer – taught me jazz, but I don't want to sing just that music for the rest of my life. My musical lane will be something like Pop-Rock-R&B-Alternative…a list of styles all mushed together!"
Ayla's independent label, 23rd Street Records has placed their marketing and promotional needs with Chicago based National Marketing Advertising and Promotion Services. The international marketing agency is headed by long-time music industry professionals Karvin Johnson and Lori Taylor Johnson.
Media Contact: Taylor Johnson 312-321-6256 at NATIONAL MARKETING ADVERTISING & PROMOTION SERVICE
###