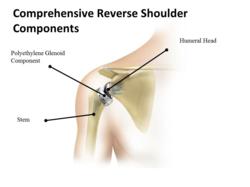 The Reverse Total Shoulder Replacement is the most dynamic advance in shoulder surgery in the past decade.
Capitola, Calif. (PRWEB) November 09, 2011
With the population aging, the chances of rotator cuff problems rise exponentially. Combine this with arthritis and patients find themselves facing chronic pain and a debilitating loss of movement, according to experts at Santa Cruz Orthopaedic Institute (SCOI).
A new surgical procedure, the Reverse Total Shoulder Replacement, is giving hope to older patients who previously had little recourse, according to Dr. Peter Reynolds.
Only performed by orthopaedic surgeons specializing in shoulders over the past two to three years, the Reverse Total Shoulder Replacement is an answer for those patients with severe arthritis complicated by rotator cuff tears. Reynolds, a partner at SCOI in Capitola, Calif., is currently is the only surgeon in Santa Cruz County doing the procedure.
"The Reverse Total Shoulder is the newest and most dynamic advance in shoulder replacement surgery in the last 10 years," he said. "It really can revitalize the quality of life for those suffering from arthritis and large rotator cuff tears. Unfortunately, most patients and many physicians aren't aware of it."
Rotator cuff injuries increase significantly with age, with those over 70 at very high risk. This group is also more likely to suffer from arthritis. The combination of these two conditions can be truly debilitating, where even daily tasks are virtually impossible, and there has been no reliable surgical option.
Other candidates for the procedure, Reynolds added, are those with rotator cuff tears so bad they can't be fixed, leaving the patient experiencing "pseudoparalysis", where the arm cannot be raised from the side, even though the deltoid muscle is working.
The Reverse Total Shoulder Replacement actually reverses the natural anatomy of the shoulder. A metal "ball" is attached to the shoulder blade or scapula, and a plastic cup is fixed to the top of the humerus, the upper-arm bone, for the "socket." This reversal allows the large shoulder deltoid muscle to move the arm and provides a fixed point of rotation for the muscles to work against, according to Reynolds, restoring mobility and strength.
Joan Lowell knows all too well the limitations of shoulder pain. Now an Aptos, Calif. fine artist following a 40-year career as a commercial artist in San Francisco, Lowell describes her hobby as "taking care of myself" – exercising and walking daily, skiing, and eating everything she should. Following a trauma last year, she was left without a functioning rotator cuff –resulting in constant pain and loss of function that left her unable to exercise and perform many everyday tasks, not to mention paint.
After undergoing Reverse Total Shoulder Replacement by Reynolds in spring 2011, Lowell is delighted at her progress and is as committed to her therapy as she is to exercise.
"Dr. Reynolds and Jim Tucker, PT and Orthopedic Certified Specialist who owns Seascape Physical Therapy, told me I could be the 'poster girl' for recovery and physical therapy," said Lowell. "Before I finished all my PT appointments I was already able to raise my arm above 135 degrees, which is significantly higher than the average. And I'm still working on my own to improve even further!"
More information on Reverse Total Shoulder Replacement and other orthopaedic issues is at http://www.santacruzortho.com or by calling (831) 475-4024.
Contact:
Gail DeLano
DeLano Communications
831.588.1567
gdelano(at)sbcglobal.net
Gracia Krakauer
SCOI
831.475.4024
gkrakauer(at)pmgscc.com
###