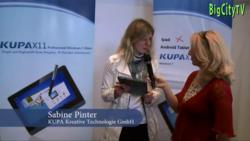 Kupa set up a booth allowing convention goers to see the Windows 7 Professional tablet first-hand, interacting with this impressive product
Wiesbaden, Germany (PRWEB) November 09, 2011
Kupa showcased their latest product, the Windows based tablet computer X11, on November 2nd and 3rd at B2D 2011 tradeshow held in Wiesbaden, Germany. Kupa set up a booth allowing convention goers to see the Windows 7 Professional tablet first-hand, interacting with this impressive product as well as getting a preview of Windows 8 prototype on one of the tablets. Celebrity and tech enthusiast Harry Wijnvoord stopped and checked out X11 and took a picture at the booth.
The X11 was a show stopper at the B2D 2011 Wiesbaden, attracting attendees to test the product. The likability of the Windows based product is what drew people in, as many marveled at how fast and easy it was to use. Throughout the three day exhibition Kupa representatives assisted users to get the full experience of the X11, highlighting features like the Intel mobile processor, front and back camera, and Wifi + 3G network capability. Not only were they impressed by the 10 hour battery life and finger print security, but enjoyed the versatility of functions such as the handwriting features and full-key and split key board through the dual pen + touch input system. Users commented how it was great to see a Windows based tablet on the market as it allowed for more possibilities and interaction, especially for business professionals who need to run different programs at once.
Kupa X11 is the next generation Windows based table PC with pen + touch dual input system, 10 hours battery life and many unique features that are not found in current tablet computers: -Pen + Touch Input System with pen is the sensitive to different levels of pressure
10 hours continuous operation and 30 days standby battery life with a single charge
-Robust, and energy efficient operation with thin and light profile result from solid state design
-64 GB and 128GB SSD versions, with 128GB SSD being the largest storage option of any tablet computer
-Wi-Fi, 3G, Bluetooth, USB and mini HDMI offers full connectivity, wireless or wired
-Dual cameras: Front 2MP / Rear 3MP
-Enterprise security features such as fingerprint scanner and Trusted Platform Module
-Dual antenna design for Wi-Fi, and 3G for maximum signal strength
Windows 7 Professional
X11 is available for order now at Kupa. Please visit us at http://www.kupaworld.com or email us at info.us(at)kupaworld(dot)com for more details or questions.
KUPA is a computer hardware manufacturer with a strong focus on mobile and green technologies.
###