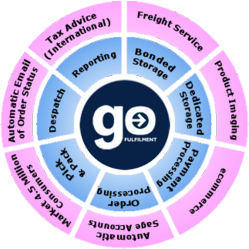 VAT Loophole will be closed
(PRWEB) November 09, 2011
The government announcement today that the VAT loophole will be closed for fulfilment companies in the channel islands which should bring a welcomed boost to UK Fulfillment companies. Brian Taylor of Go Fulfilment stated, "Closing this loop hole will create a level playing field and allow companies in the UK to now compete on equal terms, so in that respect this announcement is very welcome."
Brian went on to say, "We expect many companies will now review the benefits of using a fulfilment service based in the channel islands, effectively the channel islands are now a remote location with relatively high costs and higher distribution charges."
Go Fulfilment, is a provider of fulfilment business solutions, Go Fulfilment is unique in that it offers companies services other than those typically offered by UK fulfilment companies. Many companies are looking for e commece in the UK and other services such as websites, marketing, SEO and paperwork in respect of tax and VAT.
Outsourcing shipping and delivery services enables international businesses to grow effectively in the UK and Europe, without worrying about employing staff and managing warehousing stock, ecommerce and the packaging of items for despatch.
Go Fulfilment is a UK fulfilment house dedicated to assisting with shipping and delivery for large and small businesses within across the globe. Go Fulfilment's history as a fulfilment house ensures it will offer clients a first-class return on their investment.
Recently Go Fulfilment expanded its operations into a second 650,000 sq ft site, this provides Go Fulfilment with some of the largest capacity in the UK and ensures it is well placed to meet the needs of any potential client.
For more information, please contact
Brian.Taylor(at)GoFulfilment(dot)com or visit http://www.gofulfilment.co.uk.
###