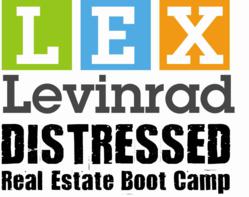 We have taught single moms, retirees and even the recently unemployed how to make money flipping houses
Boca Raton, FL (PRWEB) November 09, 2011
Real estate expert Lex Levinrad has trained hundreds of real estate investors how to invest in foreclosures, short sales and bank owned properties at the Distressed Real Estate Boot Camp which is held twice a year in South Florida. Lex will be teaching investors again at next week's Distressed Real Estate Boot camp which will be held in Hollywood, Florida.
This three-day boot camp is designed to teach new investors how to buy, fix and flip bank owned properties and short sales often with no money down. The Distressed Real Estate Boot Camp will be held from November 18 to November 20 at the Westin Diplomat Hote Resortl & Spa in Hollywood FL.
"We have had phenomenal success with our students," says Levinrad. "We have taught single moms, retirees and even the recently unemployed how to make money flipping houses that are bank owned properties and short sales." "We have one student who is 21 years old that has flipped 8 houses and he was working at Wendy's making $6.75 an hour before he started investing in real estate," said Levinrad.
The Distressed Real Estate Boot Camp will help new real estate investors as well as seasoned real estate investors with experience. The 3 day Boot Camp includes 2 ½ days of class room training along with a half day Distressed Real Estate Bus Trip visiting bank owned properties.
Levinrad teaches new investors how to calculate what houses are worth and how to structure and make offers on these properties. He teaches investors how to understand comparable sales and estimate repair costs in order to calculate what it would take to make a property marketable to resell for a profit. According to Levinrad these steps are crucial when determining how much to offer on a property.
"There is a huge opportunity to make money in the real estate market right now," says Levinrad. "The abundance of foreclosures and short sales has created many distressed sellers that are walking away from their houses and these properties ultimately become bank owned properties. There is no shortage of cash buyers looking to scoop up these bargains with many of them being foreigners," said Levinrad.
Levinrad makes his money by wholesaling, buying, fixing and flipping these bank owned properties for a profit and that is what he teaches his students. "You don't need cash or any prior experience to participate because we will train you, provide the cash to buy these properties if the property is in Florida and even find the buyers for you," says Levinrad.
The cost to attend the boot camp is $997 for 3 days, which includes all training materials including a Home Study Course, Audio CD Set, Forms Discs and Books. Students must be pre-registered in order to attend the event. For more information about the Distressed Real Estate Boot Camp or to register for the event please visit
http://www.lexlevinrad.com/Boot_Camps.html or call 561-948-2127
WHAT: Distressed Real Estate Boot Camp
WHEN: 9:00 am to 5:00 pm - Friday – Sunday, November 18 – 20, 2011
WHERE: Westin Diplomat Hotel & Spa
3555 South Ocean Drive
Hollywood FL 33019
WHY: Learn How to Flip Houses With No Money Down
ADMISSION: $997 open to the public (must be pre-registered to attend)
WEBSITE: http://www.lexlevinrad.com
CONTACT INFORMATION: 561-948-2127
###