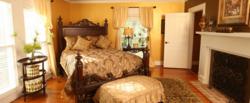 Orange, Virginia (PRWEB) November 11, 2011
BedandBreakfast.com is the most comprehensive global site for finding bed and breakfast properties around the world, with more than 11,000 properties worldwide.
The Best of BedandBreakfast.com Award winners are selected based on the quality and quantity of the traveler reviews from the past year on BedandBreakfast.com, as well as the quality of inns' photos, listing descriptions and overall online customer experience on BedandBreakfast.com.
"The Best of BedandBreakfast.com Award winners, including Chestnut Hill, really exemplify the special experience that travelers expect from staying in a bed and breakfast," says Martin Slagter, vice president of HomeAway, Inc, which owns BedandBreakfast.com. "Take one look at Chestnut Hill's reviews and you'll see guests who share stellar accolades for its quality accommodations, breakfasts, amenities and outstanding hospitality and service."
"It's a true honor to be chosen for a Best of BedandBreakfast.com Award, and we thank our guests for the positive reviews that resulted in this award," says Kathleen Ayers, the owner of Chestnut Hill. "It is gratifying that our guests took the time to share their comments about our hospitality, accommodations, breakfasts and attention to the details which set Chestnut Hill apart," commented Ayers. Here's an excerpt from one of their reviews: "I have been blessed to travel all over the world and stay at some amazing hotels, eat great food and have experiences that a person from Central PA would have never thought possible. Next to Emirates Palace (literally a 7 star hotel) in Abu Dhabi, Chestnut Hill is the best place I have ever visited."
About the Chestnut Hill Bed & Breakfast:
Built in 1860, Chestnut Hill has been skillfully renovated to preserve the master craftsmanship of this award-winning renowned historic home. This masterpiece has been professionally decorated to provide its guest with an opportunity to appreciate the past while enjoying the comforts and luxuries of the present. After an extensive six year restoration, the inn now offers six guest rooms to include a bridal suite. All guest rooms offer private baths, flat screen HD televisions, superior quality linens and numerous luxury amenities. Some of the rooms also include jetted tubs and fireplaces. Chestnut Hill also offers numerous common areas for their guests to utilize including a lower-level pub for the guests to enjoy during their wine & cheese tasting event each afternoon. This area adjoins a home theatre room to include a 61' HD flat-screen television. There is also a business center that offers a guest computer as well as Wi-Fi located in the original library. The rear lawns and gardens were designed by a landscape architect that include waterfalls with koi pond, stone patio with fire pit and a numerous fountains that are perfect as picturesque backdrops for elegant wedding events and other gatherings.
For a complete list of Best of BedandBreakfast.com Award winners, please visit http://www.bedandbreakfast.com/about/BestofBedandBreakfast.aspx
About BedandBreakfast.com
BedandBreakfast.com, based in Austin, Texas, is the most comprehensive global site for finding bed and breakfast properties, with more than 11,000 properties worldwide. It is owned by HomeAway, Inc., which operates the world's leading online marketplace of vacation rentals. BedandBreakfast.com helps travelers find and book the ideal B&B or small inn through informative descriptions, photos, and more than 160,000 consumer reviews. BedandBreakfast.com offers convenient gift cards welcomed at more than 4,000 B&Bs in the United States and Canada, with no restrictions or blackout dates.
# # #