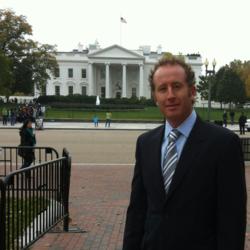 I am thrilled to see the Administration reaching out to entrepreneurs from all sides of the political spectrum
West Palm Beach, FL (PRWEB) November 10, 2011
Matthew K. Smith, CEO of West Palm Beach-based company Shoes For Crews, participated in a White House Business Leaders Forum on Friday at the White House with Valerie Jarrett, Senior Advisor to the President, Aneesh Chopra, United States Chief Technology Officer and more than 150 business leaders from around the country.
The White House Business Leaders Forum offered business leaders an opportunity to convene in Washington, D.C. to provide feedback to the Administration on ways to support economic competitiveness, job creation and innovation.
"I am thrilled to see the Administration reaching out to entrepreneurs from all sides of the political spectrum," Smith said. "What left a mark on me at the Business Leader's Forum is how many exciting companies are still growing in this country and how many business leaders still have a positive outlook on the economic future of this country."
Shoes For Crews, a global slip-resistant footwear manufacturer and direct-distributor that was started in 1984, aims to prevent employee slip & fall accidents in the workplace. Shoes For Crews protects over 140,000 workplaces worldwide and has corporate safety shoe programs with 87 of the top 100 foodservice companies in the USA including McDonald's, Yum Brands, the Cheesecake Factory, Chick-fil-A, MGM Resorts and Darden Restaurants.
Founded in New York City, Shoes For Crews moved to West Palm Beach in 1995 with 10 employees and has grown to over 230 employees working in their downtown West Palm Beach headquarters. Shoes For Crews has hired over 25 executives, mid-level managers and entry-level employees in the last 12 months.
Friday's Forum brought 150 business leaders from across the country to the White House. Senior officials from across the Administration participated in panels and breakout sessions on topics ranging from regulatory reform, to exports, the American Jobs Act and American economic competitiveness. Two in three participants were CEOs. Most participated in one of Business Forward's regional programming, now active in 40 cities.
About Shoes For Crews
Established in 1984, Shoes For Crews has served the needs of the Foodservice, Industrial and Healthcare communities with their top-rated, patented slip-resistant outsole for over 25 years. Their Safety Program comes at no cost to the employer, and every pair is delivered with guaranteed comfort and durability, all backed by a best-in-class 60 Day Wear and Compare Guarantee, including FREE Exchanges.
To learn more about Shoes For Crews slip-resistant footwear, please call 1.877.No.Slips (1.877.667.5477) or visit their website at shoesforcrews.com.
###