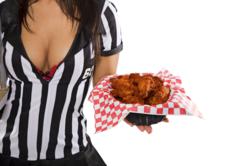 "We are Hooters' new rival..."
-Jason McCarther, General Manager of The Box Bar & Grill
Bethesda, MD (PRWEB) November 10, 2011
The Box Bar & Grill, 7525 Old Georgetown Rd, opens its doors to area sports fans for the first time on November 11, 2011 in Bethesda, MD with a Capitals Pre-Game as the home team take on the New Jersey Devils.
Designed to be a place for locals to seek refuge from everyday stress from work and life, this sleek and spacious Bethesda sports bar features 15 HD flat screen televisions and a jumbo projection screen to catch favorite teams duke it out while enjoying "the sexiest wings in Bethesda". In addition to wings, the Box features a tasty menu of scrumptious sandwiches, juicy burgers and perfectly grilled steaks.
"We're thrilled to open our doors to sports fans in the area," said the Box owner Jason McCarther. "There's not a bad seat in the house to catch any game and grab a bite to eat. People can expect unparalleled service from our Box Babes as well as great deals and events when they come here. Our goal is to be the best bar in Bethesda, and we won't stop until we have the title!""
Visit http://www.theboxbarandgrill.com to sign up for email updates and special deals. Find our deals page and download a coupon for our Grand Opening Special.
# # #