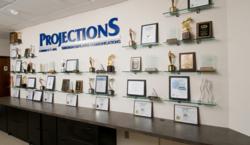 Norcross, GA (PRWEB) November 09, 2011
Atlanta-based employee communications firm, Projections announced today that they have been recognized for multiple 2011 awards, continuing an impressive string that includes more than a dozen awards over the past three years, including, for the third year in a row, being ranked by Inc. Magazine as one of the fastest growing companies in the nation.
"The ways in which companies connect with employees is evolving as fast as the technology that supports it. Projections consistently seeks innovative approaches and powerful solutions to meet our clients' needs," said Walter Orechwa, CEO of Projections. "The dedication and creativity of the Projections team is unmatched, and these awards reflect that."
For 2011, Projections was awarded gold and platinum EMPixx Awards, a "Davey" Silver Award, and an Accolade Award. Projections also joined a rare and elite group of companies, by being named for 3 years in a row to the Inc 5000 list of America's fastest growing companies. Projections joined Spirit Airlines, television maker Vizio, Honest Tea, Dunkin Donuts, and Metrokane, makers of the Rabbit corkscrew, among other prominent brands featured on this year's list.
Inc. magazine Editor Jane Berentson said, "Now, more than ever, we depend on Inc. 5000 companies to spur innovation, provide jobs, and drive the economy forward. Growth companies, not large corporations, are where the action is."
For a complete listing of the many awards won by the Projections team over the past 30+ years, please visit http://www.projectionsinc.com/awards.html.
About the Accolade Awards:
The Accolade is an awards competition that goes to filmmakers, television producers, videographers and new media creators who produce fresh, standout productions. It is a showcase for cinematic gems and unique voices. The Accolade recognizes producers, established and emerging, who demonstrate exceptional achievement in craft and creativity. Undiscovered and first-time producers are often recognized.
About the EMPixx Awards:
The EMPixx Awards, sponsored by the American Pixel Academy, a coalition of professionals and educators in the pixel media, honors excellence in moving pixels. In 2011, the total number of entries surpassed 1,100 with winners coming from major brands such as AT&T, Bank of America, BMW, Coca-Cola, Ford Motor Company, Home Depot, Kellog's, Mercedes, Toyota, Universal Studios, Walt Disney World, and Warner Brothers Entertainment.
About the International Davey Awards:
The Davey is the largest and most prestigious awards competition exclusively for the "Davids" of creativity. The annual International Davey Awards honors the achievements of the "Creative Davids" who derive their strength from big ideas, rather than stratospheric budgets.
About Inc. Magazine:
Founded in 1979 and acquired in 2005 by Mansueto Ventures LLC, Inc. is the only major business magazine dedicated exclusively to owners and managers of growing private companies that delivers real solutions for today's innovative company builders. With a total paid circulation of 710,106, Inc. provides hands-on tools and market-tested strategies for managing people, finances, sales, marketing, and technology.
About Projections:
Ranked by Inc. Magazine in 2009, 2010, and 2011 as one of America's fastest growing private companies, Projections provides the employee communication resources that address the most significant challenges businesses face today. Projections specializes in labor relations, and offers both custom and "off the shelf" video, websites and eLearning. Projections focuses on helping employers reach goals they might never have otherwise attained. With the most advanced technology available, Projections' work reflects the highest level of quality in videos, websites and innovative eLearning solutions for clients throughout North America. After more than 30 years in business and dozens of industry awards, Projections is proud to work with some of the largest - and smallest- employers in the world.
###