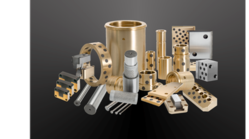 With the amount of people attending this year, preparation and planning is significant in order to get the most out of the show.
(PRWEB) November 12, 2011
Coopersville, MI: This year's FABTECH Show 2011 will be November 14th to the 17th. Held at the McCormick Place in Chicago, Greg Kirchhoff, Phil Allor and Jordan Bock will be manning the booth. At the expo the company will have on display bushings, wear plates, wear strips, gibs and much more.
There is an expected 1,200 exhibitors this year and approximately 30,000 attendees according to the FABTECH website. The FABTECH Show is considered to be one of North America's largest metal forming, fabricating, welding and finishing event. SelfLube is expecting an excellent turn out since this year will be the national show, which is held every other year at McCormick.
The nearly 450,000 square feet arena space will hold a packed event which will showcase businesses and products in the welding, fabricating, metal forming and finishing industries. In the past, Metalform was a separate event - this will be the fourth year that it is combined with FABTECH. It will be SelfLube's 14th year attending.
SelfLube's Wear Plate line will be on display at the event. The wear plate was the first component made when the company first opened it's doors in 1990. Now, with over 7,000 different part numbers – the company has come a long away. SelfLube will be showcasing its line, which will include the N Series, A Series, B Series, Grease Grooves and many more. Each wear plate is available in aluminum bronze and can come with or without self-lubricating graphite.
With thousands of attendees anticipated, preparation is a must and the company has spent the last two months getting ready. As explained by Kirchhoff, "With the amount of people attending this year, preparation and planning is significant in order to get the most out of the show." The company will be launching for the first time a direct line to their customer service for a fast and easy quote, available through the company's QR Codes. This will be the first time the company has used the QR Code. The idea is to reach out to its customers and provide an easier method in quoting on quality components.
SelfLube is a US based manufacturer of precision mold and die components such as bushings, gibs, wear strips, parting line locks, lifter slides and related items - about 7,000 standard part numbers in all, many of which are self-lubricating. The company sells to build shops throughout North America, which results in better pricing and better customer service. Its record for on time delivery is among the best in the industry. SelfLube is a successful growing company that provides superior value to its customers.
###