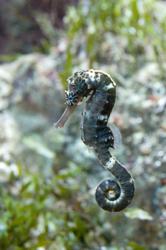 "We're proud to welcome back the world's best and brightest thinkers in marine conservation to address the new husbandry innovations, ongoing conservation work and past challenges that affect this fragile species." - Chuck Knapp, Shedd Aquarium
Silver Spring, MD (PRWEB) November 10, 2011
Every year, over 20 million seahorses are taken from their habitats to be used for medicinal and commercial use. This past weekend, the John G. Shedd Aquarium hosted "The Husbandry, Management and Conservation of Syngnathids" to discuss the latest in seahorse husbandry, research, and ongoing field conservation initiatives. The Association of Zoos and Aquariums explores this story on its Explore blog.
Experts at this international conference include leaders in science, conservation and research from the Zoological Society of London, Monterey Bay Aquarium, and Project Seahorse. The collaborative partnership between Shedd Aquarium and Project Seahorse, which began in 1998, has yielded many achievements in the conservation of seahorses and their habitat, including the creation of the first seahorse husbandry manual – the guiding reference for numerous other public aquariums around the world.
The Explore blog brings you exciting, informative, and inspiring wildlife conservation features, zoo and aquarium stories, and profiles. Be sure to visit http://wildexplorer.org to get your wild animal fix!
Founded in 1924, the Association of Zoos and Aquariums is a nonprofit organization dedicated to the advancement of zoos and aquariums in the areas of conservation, education, science, and recreation. Look for the AZA logo whenever you visit a zoo or aquarium as your assurance that you are supporting a facility dedicated to providing excellent care for animals, a great experience for you, and a better future for all living things. The AZA is a leader in global wildlife conservation, and your link to helping animals in their native habitats. To learn more visit http://www.aza.org.
###