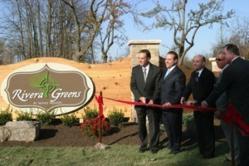 Natale Builders researched all environmental and low carbon footprint aspects that go into a Green Development
(PRWEB) November 10, 2011
On Wednesday, November 2, Natale BUilders held a ribbon cutting ceremony at their new neighborhood Rivera Greens in Clarence. After 3 years of preparation they are excited to get the building of homes started. Natale hired a local arborist to preserve the natural trees, pond and also received a Wildlife Certification for the neighborhood. They partnered with WNY Re-Tree, and donated a portion of the development for tree plantings. Natale Builders had researched all environmental and low carbon footprint aspects that go into a Green Development and today they cut the ribbon. It was announced on November 1st that they have received from the National Association of Home Builders (NAHB) their Official Certification that they are the 1st in NYS to achieve this prestigious 4 star award.
Angelo Natale, President and Owner of Natale Building Corp., building custom homes in WNY since 1969, welcomed the 40 guests to this event. He began by thanking his staff, for all their hard work and dedication, and for all the officials in attendance. Officials present included Erie County Executive Chris Collins and Clarence Supervisor Scott Bylewski. Also in attendance were Natale' business partners: Jeffrey Palumbo and Chris Cardillo, Damon and Morey LLC and James Rykowski Evans Bank VP of Commercial Lending. Angelo's vision for Natale Builders and Rivera Greens is to not only be the 1st and experts in this Green building, but to improve Eco-friendly homes and healthier living environments. They will be building 35 homes in Rivera Greens with 6 models to choose from. These Ranch and 2 story home designs will be using many recyclable "green" materials, local suppliers and trades, Geothermal Heating systems and Solar panels. "These are just a few of the many options buyers can choose from."
County Executive Chris Collins congratulated Angelo Natale for being the "First" in the state to achieve this goal and proclaimed Thursday November 2nd 2011 as "Natale Builders Rivera Greens Day." Clarence Supervisor Scott Bylewski thanked Angelo for bringing this concept to Clarence. He also thanked him on behalf of the tax payers, for using an alternative energy source ie: windmill that will generate the necessary energy to power the street lights and landscaping lights, saving town taxpayers money.
Natale plans on starting their first models and customer homes this week, with a build time of only 3 to 4 months. Being a "full service" quality builder, Natale prides itself on being green experts as well as being the most efficient to detail. They strive to make the process easy and comfortable for their clients. They have always provided their homeowners with an undeniable value. They are offering early lot discounts and free upgrades for the newest 10 buyers at Rivera Greens and are promising spring move in dates. You can find out more by calling Natale' VP of Sales Lisa Norman at 583-1877, office 580-3318 or visiting their website, http://www.natalebuilders.com and http://www.riveragreens.com.
###