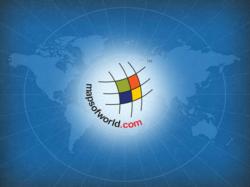 President Mani Singh is part of the panel, and is going to present on Mapping Industry and Social Media
San Jose, CA (PRWEB) November 09, 2011
MapsofWorld.com, a leading mapping and apps services provider, is going to be part of the 2011 Global Conference and Trade Show organized by the International Map Trade Association (IMTA). Even though Thailand is battling one of the worst floods in history, this conference remains the only one to follow the original schedule [November 10-11, 2011]
President Mani Singh is part of the panel, and is going to present on Mapping Industry and Social Media. The presentation is based on a unique survey conducted by MapsofWorld.com, which seeks to measure how social media is perceived and used within the mapping industry. For those still testing the waters in social media, it is a great opportunity to interact with Singh, who is one of the pioneers and early adopters of social media in the industry.
For map publishers and businesses looking to leverage location-based data, the event provides a chance to learn about the Mobile Apps and Content Digitization (GIS and non-GIS maps) services offered by the company. Publishers of atlases and guides can learn about the Custom Mapping services, which will save time and help produce elegant and accurate maps.
The company also runs the portal MapsofWorld.com, which is a leading multilingual resource on thematic maps and educational content. The online store offers high visibility to map businesses who want to showcase their solutions to a wide audience. The store currently sells National Geographic wall maps in the US. The mobile apps division has developed bestselling educational apps for mobile platforms – World Atlas and World Quiz – to have crossed 60,000 downloads.
MapsofWorld.com recently participated in the IMTA (Americas) and the Frankfurt Book Fair, with an overwhelming response. As it seeks to bring mobile apps and social media to the mapping industry, the upcoming event will prove very important.
For more information, please contact:
MapXL Inc.
10 S, Third Street, Suite 310,
San Jose, CA 95113
mani(at)infobase(dot)in
http://www.mapsofworld.com
###