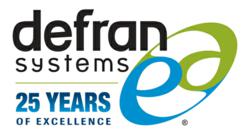 We are very grateful that Defran has enabled us to bring this exciting program to our community.
New York, NY (PRWEB) November 10, 2011
Defran Systems, Inc., a leading developer of web-based, enterprise-wide case, clinical and financial management software for human services organizations, today announced its sponsorship of the revolutionary Artistic Realization Technologies (A.R.T.) program at Upstate Cerebral Palsy in Utica, NY. Upstate Cerebral Palsy is a premier provider of direct care services for physically, developmentally or mentally challenged individuals and their families. This is the second consecutive year that Defran has supported implementation of the innovative art therapy technique at one of its client locations.
"We are very grateful that Defran has enabled us to bring this exciting program to our community," said Kathleen Klosner, senior vice president of adult & community services, Upstate Cerebral Palsy. "Their generous commitment is reflective of how Defran surpasses the expectations of traditional client-vendor relationships. Through our mutual partnership we are able to deliver an improved quality of life for the people we serve."
On November 11, 2011, individuals at Upstate Cerebral Palsy will learn how to express themselves in a unique way as Upstate Cerebral Palsy and A.R.T. team up for the on-site launch of this innovative art therapy program. The groundbreaking techniques developed by A.R.T. enable physically and mentally disabled individuals to create original pieces of artwork. Through the help of a trained 'tracker,' who creates a painting under direction from the artist, the program empowers individuals with disabilities to engage in a form of creative self-expression previously unknown to them due to their physical limitations.
"A.R.T. is all about harnessing individual creative power," said Tim Lefens, executive director, A.R.T. "The technology we use enables these new artists to actualize their feelings and creative expression in a way they never imagined possible. The resulting artwork is a testament to the talents and passion of these inspirational individuals and we are honored to be part of their remarkable transformation."
"Defran has always been passionate about helping our customers achieve their missions, whether through the use of our software technology or through our involvement in programs like A.R.T.," said Fran Loshin-Turso, president and CEO, Defran Systems, Inc. "In these challenging economic times, it's more important than ever for companies to step up and lend their support to nonprofit agencies. It has been our pleasure to support A.R.T. and the team at Upstate Cerebral Palsy. We are pleased that our involvement allows them to launch this pioneering project for a group of very deserving individuals."
All media are welcome at the event between 9:30AM and 2:00PM on November 11, 2011 at the Upstate Cerebral Palsy Barneveld Campus, located at 10708 North Gage Road, Barneveld, NY 13304. In 2010, Defran was a sponsor of the implementation of the A.R.T. program at Easter Seals UCP North Carolina & Virginia, Inc.
About Defran Systems, Inc.
Defran Systems, Inc. is a leading developer of single solution case, clinical and financial management software for the Human and Social Services Industries. The company's web-based, flexible and reliable enterprise-wide software supports almost 2000 human services facilities in the United States including Behavioral Health, Mental Health, Foster Care, Child Welfare, Developmental Disabilities, Substance Abuse and other specialized programs. Defran's electronic health system is a completely integrated EHR/EMR and AR/AP sub-ledger system that includes a host of productivity aids that are unmatched in the industry. Defran Systems, Inc. is ONC-ATCB 2011/2012 certified and is considered a leading innovator in software development for organizations that operate programs across the full continuum of care. For more information about Defran Systems, visit http://www.defran.com.
###