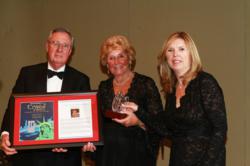 Islandia, NY (PRWEB) November 10, 2011
The Hospice Care Network (HCN) is a non for profit organization, serving the Nassau, Suffolk and Queens Counties in New York, dedicated for over 25 years to provide compassionate care and comfort to people in their final stages of life. The HCN utilizes a holistic approach that cares for the total person, addressing the physical, emotional and spiritual needs of patients and their families.
This year, the HCN honored Mrs. Gina Whitcomb Daly with the Lifetime Achievement Award for her efforts to support the organization and her constant community stewardship efforts. Mrs. Daly, the co-founder of Whitsons Culinary Group and matriarch of the Whitsons family, embodies the company's mission of "enhancing life, one meal at a time" by striving to keep the company well-grounded in the strong family values and community involvement that have shaped the organization from the start.
Whitsons Culinary Group provides a wide range of highly customized dining services to public and private schools, corporations and institutions, with a strong focus on nutritious, high quality menus made from fresh, wholesome ingredients. Whitsons has a long and proud history of excellence and growth since 1979 and currently ranks the 16th largest dining company in the United States (Food Management magazine, September 2011). Whitsons' scope of expertise and services extends to: culinary development, residential and healthcare dining, delivered meals, emergency dining and vending services.
###