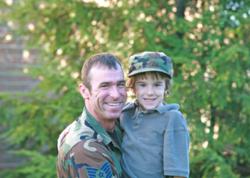 I graduated the workshop with an increased confidence and sense of self-worth. I hope more veterans have a chance to complete this program.
Los Angeles, CA (PRWEB) November 10, 2011
The National Financial Educators Council (NFEC) is a social enterprise organization committed to serving our nation's active duty military personnel and veterans. As a part of the NFECs' initiative, Revive the American Dream Movement, the complete Military Financial Literacy Program is being donated to groups that currently serve current and former military personnel.
Qualified organizations will receive the NFECs' comprehensive Military Financial Literacy Program complimentary. This includes: adult financial literacy curriculum, financial educator training coursework, PowerPoint presentations, pre- and post-tests, student guides, Military Money Skills Workshop, supporting documents and the Money XLive virtual learning center which features exclusive celebrity videos.
The NFEC's stated goal is to reach over one-hundred thousand active duty military and veterans with the military financial literacy program. "We commend the efforts of those individuals and organizations that are currently dedicated to our veterans and military personnel. Through collaboration we can help to empower our hero's with the financial education skills they need to achieve financial wellness," states Vince Shorb, CMO of the NFEC.
To qualify, organizations must meet specific criteria. They must currently be serving active duty military or veterans and provide the military money skills training free of charge. Recipients of the military financial literacy program must also commit to raise awareness about the financial illiteracy epidemic that is plaguing our soldiers and the citizens of our Country.
The NFECs' Military Financial Literacy Program has just completed its testing by serving over forty veterans in classes over summer. The surveys demonstrated that the veterans gained the financial knowledge they needed to feel more confident about their finances. An attendee of the military financial literacy program stated, "We came expecting it to be financial management but it turned out to be a whole lot more and touched on areas I never thought they would deal with, areas that were critical to me."
To address the concerns of veterans and active duty military personnel the NFECs' Military Financial Literacy Program covers topics like saving for retirement, debt reduction and how to avoid or recover from financial pitfalls. Many common financial concerns have a dramatic impact on the wellness of the men and women that served in the armed forces and can lead to feelings of stress, relationship issues, and can affect many areas of one's life.
The National Financial Educators Councils' Revive the American Dream movement is dedicated to providing complimentary financial literacy resources to individuals and organizations across the country. The NFECs' Military Financial Literacy Program was developed to empower our service men and women with the personal financial knowledge necessary to avoid common money issues and achieve a state of financial wellness.
###