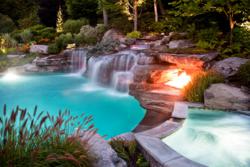 Cipriano's New Jersey pool renovation company completed a perfectly natural pool design, earning international recognition for their experienced pool design, construction, and renovation.
Mahwah, NJ (PRWEB) November 11, 2011
Cipriano Custom Swimming Pools & Landscaping, a pool renovation company in Mahwah, NJ, has received an International Award of Excellence from the Association of Pool & Spa Professionals (APSP) at the Pool, Spa, and Patio Expo held November 1st in Las Vegas, Nevada. Cipriano's award-winning pool renovation is also located in Mahwah, NJ. The 1,350 square foot pool took home the Silver Award of Excellence for residential concrete pools with a natural setting. The NJ pool renovation company designed and built this pool with three waterfalls, over 200 tons of boulders, a Volcanic Fire Pit, Living Boulders, a natural stone patio, and mature tree plantings. The various natural elements were used to bring the existing landscape's woodland feel into the new pool design. In doing so, Cipriano's New Jersey pool renovations company completed a perfectly natural pool design, earning international recognition for their experienced pool design, construction, and renovation.
As one of the most highly-acclaimed pool renovation companies in the northeast, Cipriano's experience with large-scale natural pool projects continues to earn industry accolades. This pool renovation in Mahwah, NJ was no different. The pool's three waterfalls produce varied sights and sounds. The largest waterfall is fed by a stream that cascades naturally down the existing hillside landscape. Directly adjacent to the rushing waterfall, a Volcanic Fire Pit rises from a bed of crushed glass set directly on the boulders. The NJ pool renovations company uses this balance between fire and water to put nature on display in its purest forms. In addition, Living Boulders were carefully placed at the edge of the pool. Living Boulders have moss, ferns, and lichen growing on them, suggesting that the pool and these boulders have been there for centuries. To complete the natural scene, a mature maple tree was transplanted from on site to bring the existing, natural setting directly into the pool area. A lush landscape was also provided by the New Jersey pool renovation company in order to soften the boulders used for the waterfalls and retaining walls.
Other features on this project include a slate and glass tile waterline, a raised spa, a sunshelf, Tennessee Crab Orchard patio and coping, exposed aggregate pool plaster, and even a rain garden. The slate and glass tile can be found in a one-inch by two-inch running bond pattern along the waterline, step banding, and shelf banding. The Tennessee Crab Orchard patio features individual stones as large as three-feet by four-feet. Fiber optic lights were also used by the New Jersey pool renovation company to create depth and accents in the waterfalls and landscape at night. Overall, natural elements of fire and water, as well as a flourishing landscape of flowering plants and boulder retaining walls, combined to earn international recognition for their rugged appearance.
Visit PlantNJ.com and See What's new for 2012 in Pools & Landscaping: "Dive in Pool Theaters" and "White Water Pool Kayaking"
About Cipriano Custom Swimming Pools and Landscaping:
Celebrating over 22 years in business, nine time international award winner Cipriano Landscape Design is a recognized industry leader in custom residential landscapes, masonry and swimming pools. After a little more than a decade in business, the company catapulted to the top of the state's luxury landscaping and pool industries when it was awarded a $2.5 million residential landscape project. Today, along with the Ramsey, NJ office, the Cipriano family owns a 10-acre farm and nursery in Mahwah, NJ, where large caliper specimen trees and other rare plants are grown. With a design office headed by 15 year veteran Certified Landscape Architect William Moore, the Cipriano team has won 50 awards of excellence since 2006 including the Northeast Pool & Spa Association's 2007 Best in Competition Award. In 2008, the Cipriano team earned the Certified Building Professional (CBP) credential from the APSP, one of only five custom pool builders in Bergen County to have earned the certification.
# # #