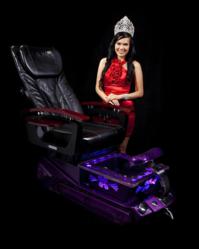 Designed for the 8-10 hour a day demands of nail salons, the iRobotics is up to the task.
Arlington, TX (PRWEB) November 29, 2011
Luraco Technologies, an innovator in both the military and commercial sectors, is proud to introduce the iRobotics massage chair. The iRobotics is designed for the grueling demands of the salon industry. iRobotics combines extreme luxury with high-tech innovation.
Features include:

Advanced, Full Function Massage System
Swedish and Shiatsu Massages
Self Diagnostic System
Military Grade Components
Replaceable Remote Control
Removable Chair Back
Replaceable Control Box
Integrated MP3 Player
Laptop Holder (Optional)
High Reliability
Ultra Soft Genuine Leather
UL Listed
Designed for the 8-10 hour of operation a day, the iRobotics is up to the task. The problems of mechanics, faulty remote controls, and motherboard can be analysed by the iRobotics self diagnostic system. The system notifies the user via LED display.
The iRobotics has advanced comfort features as well as technological. The massage motion includes both Swedish and Shiatsu massage techniques. The internal working components are unsurpassed in quality.
The massage chair comes in four popular colors and is light weight to save on shipping costs. The iRobotics fits on to most existing pedicure spa bases. For complete details please contact Luraco Technologies.
###