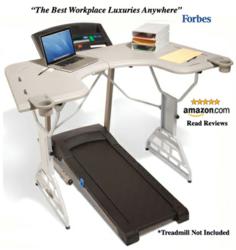 Walking with a TrekDesk is a workout at work that offers tremendous mental and physical health benefits.
Scottsdale, AZ (PRWEB) November 09, 2011
Walking protects key memory and learning brain structures in healthy adults, Alzheimer's sufferers, and adults with mild cognitive decline (MCI) according to recent findings compiled from a twenty year University of Pittsburgh study. The challenge for most employees is allocating free time to walk during the day. TrekDesk Treadmill Desks have been designed specifically for this purpose, turning a desk into a walking workout at work.
The twenty year study, headed by Dr. Cyrus Raji of the University of Pittsburgh, analyzed the activity levels and brain structures of 426 individuals divided into three categories: healthy, mild cognitive impaired, and Alzheimer's dementia. The researchers monitored weekly walking for a period of 10 years then conducted 3-D MRI exams to analyze brain volume. Brain volume decreases indicate disease due to brain cell death.
According to the National Institute on Aging as many as 5.1 million Americans suffer from Alzheimer's disease and a much larger number suffer from MCI with half of this population eventually progressing to Alzheimer's. Due to the escalating levels of obesity and sedentarism these numbers are expected to climb dramatically in coming years. It doesn't have to be this way however.
The study uncovered that greater amounts of walking led to greater brain volume scores and healthier brains slowing the progression of Alzheimer's and MCI. The challenge is getting Americans to move more during the day. "Alzheimer's is a devastating illness, and unfortunately, walking is not a cure," Dr. Raji related in a statement provided to the Radiological Society of North America. "But walking can improve your brain's resistance to the disease and reduce memory loss over time."
"Walking with a TrekDesk is a workout at work that offers tremendous mental and physical health benefits," stated Steve Bordley, CEO of TrekDesk Treadmill Desks. "This University of Pittsburgh study further confirms the need to stay active during the workday."
Designed to fit any existing treadmill, TrekDesk is an affordable, full sized workstation that allows individuals the opportunity to gain the necessary amount of exercise daily to maintain health, prevent disease, strengthen muscles, boost mood and productivity, without requiring additional time during the day or extra motivation. Get a workout at work with TrekDesk.
TrekDesk is currently available for sale online at TrekDesk.com for $479.00 including free shipping.
Join the TrekDesk "Movement Revolution" to learn more on how to workout at work at TrekDesk's Facebook page.
###