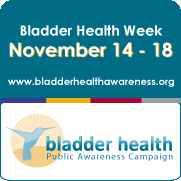 I've seen the attitude change from something that wasn't discussed, to one that is simply viewed as a condition millions of people deal with.
Neenah, Wis. (PRWEB) November 10, 2011
Bladder Health Week is a time to not only be informed of bladder conditions and be proactive in seeking treatment, but it's also a time for seniors to celebrate new attitudes about incontinence, says The CareGiver Partnership, a national retailer of home healthcare products.
More information on incontinence, advanced products designed for discretion, and new ways to shop for them all play a part in removing the mystery and stigma associated with urinary incontinence, says Lynn Wilson, Co-Founder of The CareGiver Partnership.
"I spend a good deal of time on forums and on the phone with our customers talking about incontinence, and I've seen the attitude change from something that wasn't discussed, to one that is simply viewed as a condition millions of people deal with," says Wilson.
Wilson encourages participation in organizations like the National Association For Continence. "Anyone can participate in suggested activities throughout the week," says Nancy Muller, Executive Director of the NAFC. The NAFC raises awareness of bladder health through public education, encouraging wellness exams and helping individuals connect with others.
Working with the Depend brand since the early 1980s, Lynn's husband Tom was president of the global Depend business, and together they founded The CareGiver Partnership. Tom says attitudes toward incontinence began to change when actress June Allyson became the brand spokesperson for Depend in 1984. "From that point forward, the world changed, as people became more aware of incontinence and discovered that they weren't alone. June's positive message was, 'Get back into life.'"
In talking with caregivers throughout the United States, the Wilsons recognized that dignity was the No. 1 concern as it related to incontinence. Today, The CareGiver Partnership caters to helping seniors and their caregivers easily and discreetly manage incontinence and other conditions. From The CareGiver Partnership site, visitors have access to a library of resources regarding incontinence, more than 500 absorbent products, samples to try before they buy, and information on automatically scheduled home delivery service.
Visit The CareGiver Partnership site for a comprehensive overview of incontinence, including types and causes.
Read the 23 most requested articles regarding bladder health for both men and women. It includes facts about diet, prostate surgery, talking with your doctor, surgical options, attitudes, skin issues, odor, UTIs, resources, diagnosis and exercising.
The CareGiver Partnership is a national direct-to-consumer retailer of home healthcare products for incontinence, diabetes, nutrition support and more. In its fifth year of providing products and services that help caregivers and loved ones maintain personal dignity, the company also offers an online library of more than 1,100 family caregiver resources and personal service by experts in caregiving. Call 1-800-985-1353 or visit online.
The National Association For Continence is a 501(c) 3 corporation whose mission is threefold: 1) to educate the public about the causes, diagnosis categories, treatment options and management alternatives for incontinence, voiding dysfunction, nocturnal enuresis and related pelvic floor disorders; 2) to network with other organizations and agencies to elevate the visibility and priority given to these areas; and 3) to advocate on behalf of consumers who suffer from such symptoms as a result of disease or other illness, obstetrical, surgical or other trauma, or deterioration due to the aging process itself. NAFC is broadly funded by consumers, health care professionals and industry. It is the world's largest and most prolific consumer advocacy organization devoted exclusively to this field.
###