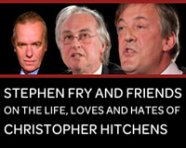 San Francisco, California (PRWEB) November 09, 2011
An impressive circle of friends will gather in London, New York and Los Angeles to look at the life of their good friend and public intellectual, Christopher Hitchens.
Anchored by Stephen Fry and Richard Dawkins at the Royal Festival Theater in London, the group will include Martin Amis, James Fenton, Lewis Lapham and Salmon Rushdie via satellite from New York, and Sean Penn via satellite from Los Angeles.
The group will be examining their and Hitchens ideas of what constitutes the good life and the good death – seen against the backdrop of Christopher's career, the causes dear to his heart, the controversies that he has so enjoyed provoking and the things that make life worth defending.
The Program will be available LIVE TODAY on FORA.tv at hitchfry.fora.tv.
Wednesday November 9th, 2011, 8:30pm GMT (3:30pm ET and 12:30pm PT)
Online Tickets: £5.00 (Approx. US$7.88)
CONTACT: Rob Flynn; rob(at)fora(dot)tv; 202-677-5008
###