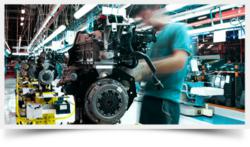 Sustainability is built into every aspect of our operations and is a stated core value.
Salt Lake City, UT (PRWEB) November 11, 2011
Packsize International LLC today announced that the company has been recognized by Supply & Demand Chain Executive magazine as a 2011 Green Supply Chain Award recipient. Packsize On Demand Packaging™ resolves inventory and shipping complexities through the ability to create a custom-sized box for every order. This efficient and cost-effective, just-in-time packaging system has become a leading sustainable business practice, resulting in less waste, lower shipping costs, decreased damage rates, and increased customer satisfaction.
"Sustainability is built into every aspect of our operations and is a stated core value," said Packsize CEO Hanko Kiessner. "At Packsize, economic success and environmental responsibility are linked. The 2011 Green Supply Chain Awards highlight and bring focus to Packsize's role as a key enabler of sustainability."
For more than 100 years, corrugated boxes have been produced in large factories. Today, this box production involves large, energy-intensive equipment designed to produce large volume runs for customers. Packsize transforms this corrugated box making process and the customer's expectations by enabling any industry type, such as manufacturing or fulfillment, to make their own corrugated boxes, thereby skipping the need for large, energy intensive factories. In this way, through its introduction and application of On Demand Packaging™, Packsize leads a global Corrugated Supply Chain Revolution that is more lean, fast, energy efficient, and sustainable.
Packsize also supports and encourages the environmental stewardship of its supply partners and customers, all of whom have an interest in reducing the amount of packaging used in today's supply chain. As just one example, products sold on the Internet are typically shipped in boxes that are 35 percent too large. This is a waste of the corrugated cardboard and the petroleum-based fillers that are often used to fill the void in the box.
Moreover, a product that is damaged in shipping is often shipped three times: twice to the customer plus the return shipment to the supplier. Studies show that using custom packaging for a product protects it during shipping more than any other packaging strategy. According to the Corrugated Packaging Alliance, corrugated packaging represents only 3 percent to 15 percent of a product's total environmental impact. As such, it is critical that the product itself is protected from damage and premature disposal.
Supply & Demand Chain Executive's Green Supply Chain Awards recognize companies that are making green or sustainability a core part of their supply chain strategy, and that are assisting their customers in achieving measurable sustainability goals. This award is the first of two sustainability-related honors Packsize received this month. Utah Business magazine also paid tribute to the company as part of their Green Business awards program honoring Utah organizations that are making admirable green efforts.
Complimentary White Paper
To download a complimentary copy of the Packsize White Paper "The Smallest Possible Box: On Demand Packaging™," visit http://www.packsize.com.
About Packsize International LLC
Founded in 2002, Packsize International LLC is the world's leading provider of lean packaging solutions for businesses with complex corrugated packaging needs. Packsize delivers an alternative to the existing corrugated supply chain with On Demand Packaging™, which eliminates the need for large inventories of pre-ordered cardboard boxes, reducing the packaging "footprint," and trimming work content required for boxing and shipping. For more information, visit http://www.packsize.com or call 801.944.4814, x141.
©2011 Packsize is a registered trademark and On Demand Packaging a trademark of Packsize International LLC in the United States and other countries. All other brand and product names are trademarks or registered trademarks of their respective companies.
###