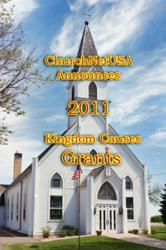 ChurchNetUSA Presents "Kingdom Causes Grants" for small community churches.
Orlando, Florida (PRWEB) November 10, 2011
ChurchNetUSA, a division of BizCentralUSA, is honoring the religious community this holiday season with grants totaling over $100,000.00 to benefit small churches across the USA. Efrain Rodriguez, a deeply religious man himself, feels these grants will give small churches a boost in these tough economic times, and help establish much needed community outreach programs throughout the United States. "Communities need our religious institutions to step up in times of need, and if I can help the various causes throughout the country with grants from ChurchNetUSA, that's what I'm going to do!"
ChurchNetUSA has provided a full range of business services to the Church community for many years. Through BizCentralUSA and another branch of that company CharityNetUSA, they are the nation's leader in the preparation, filling and annual requirements for 501c3 Tax Exempt Status Corporations which is how outreach programs operate most effectively. Once an organization is designated 501c3, they can apply for additional grants from thousands of grant funders in the public and private sectors. The preparation of those grant applications is also a specialty of CharityNetUSA.
Additionally once an organization has its 501c3 status, the organization itself is tax exempt, the donations to that organization in money, materials or time may be tax exempt, the organization can receive lower postal rates and many of the advantages of much larger organizations. All these doors can be opened to the recipient of the 100 grants being offered by ChurchNetUSA.
The Church Outreach programs can be used to improve community's in many ways, Healthy Lifestyle Classes, Youth Exercise Program, After School Program, Food Pantries and Family Counseling among many acts of Mercy and Deliverance.
All this can be made possible by the ChurchNetUSA Kingdom Causes Grant Event this holiday season. "Sometimes, we all need to give a little back to the community of man, I am happy to do my part," said CEO Efrain Rodriguez.
Churches interested in being considered for the generous grants from ChurchNetUSA can contact representatives at 877.857.9002
To learn more about ChurchNetUSA and the full range of services we provide small to mid size businesses, visit http://www.ChurchNetUSA.com or call 1.877.857.9002.
# # #