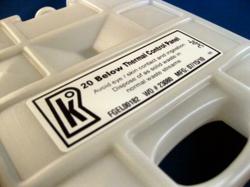 The webinar will focus on the use of phase change materials in temperature controlled package design and the inclusion of [phase change materials in cold chain packaging
Edison, NJ (PRWEB) November 10, 2011
Cryopak, leader in cold chain packaging has confirmed the date of their fall webinar for Thursday, November 17, 2011 at 12 p.m. EST.
"The webinar will focus on the use of phase change materials in temperature controlled package design and the inclusion of phase change materials in cold chain packaging," Anthony Alleva, Technical Service Manager at Cryopak said. "I will address the unique abilities of phase change materials such as, maintaining temperatures at tight specifications and their flexibility and re-usability in certain pack-outs"
What you will learn:

How traditional water based refrigerants are best utilized and what are their true limitations
Alternatives to traditional gel pack refrigerants available in the industry
How to identify and evaluate the trade-offs in material costs v. the total costs
How engineered phase materials can contribute to your company's sustainability the packaging and distribution initiatives
Performance variables to consider in the selection of a PCM
Re-usability v. Single use? What types of applications are engineered PCM's best deployed?
"This webinar is the first of a series that we plan to run moving into 2012," Bill Hingle, Marketing Director for TCP Reliable said. "Members of the Cryopak team have been continually invited to speak at industry events such as the IQPC conferences and MDM Shows, our webinar series will leverage these cold chain topics to a larger audience."
Please visit the Cryopak website to learn more about the webinar event and to register!
About The TCP Family of Companies:
The TCP Family of Companies is a complete packaging integrity solutions provider services the lifescience industries. The TCP Family consists of Cryopak, the leading manufacturer of cold chain related products and DDL, the leader in package, product and material testing validation for medical device and biopharmaceutical industries. The TCP family handles your packaging needs with one paramount goal: getting your product to market on time while maintaining the integrity of your products.
###