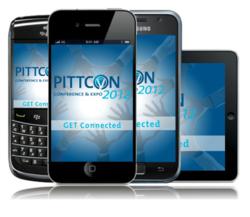 Eric Converse, CTO, ATIV Software commented, "Pittcon offers its conference and expo attendees an exceptional educational experience, and with EventPilot, the organization is helping them make the most out of it."
Pittsburgh, PA (PRWEB) November 17, 2011
The Pittcon 2012 Marketing Committee is pleased to release its official Conference and Exposition Smartphone App, Pittcon 2012. The app will be available for use on iPhone, iPad, Android smartphones, Android tablets, and all other Web enabled devices with access before, during, and after the Conference. California-based ATIV Software developed the Pittcon mobile conference app and was built on its latest mobile platform release EventPilot 5.0, which takes native event apps to the next level. This year's enhanced application allows you to build an agenda and provides intuitive navigation of extensive conference and exposition information, real-time updates, and networking capabilities.
The Pittcon 2012 App is free and can be downloaded directly by clicking here or from pittcon.org
Pittcon's web-based Agenda Builder will continue to be available; however, any agenda created in either the mobile app or Agenda Builder cannot be transferred or will be accessible outside of the application in which it was created.
"Instead of digging through heavy paper brochures or getting frustrated with slow content access, the EventPilot Pittcon event app is designed with the needs of the conference goer in mind," said Eric Converse, CTO, ATIV Software. "Pittcon offers its conference and expo attendees an exceptional educational experience, and with EventPilot, the organization is helping them make the most out of it."
About Pittcon
Pittcon® is a registered trademark of The Pittsburgh Conference on Analytical Chemistry and Applied Spectroscopy, a Pennsylvania non-profit organization. Co-sponsored by the Spectroscopy Society of Pittsburgh and the Society for Analytical Chemists of Pittsburgh, Pittcon is the premier annual conference and exposition on laboratory science. Proceeds from Pittcon fund science education and outreach at all levels, kindergarten through adult. Pittcon donates more than a million dollars a year to provide financial and administrative support for various science outreach activities including science equipment grants, research grants, scholarships and internships for students, awards to teachers and professors, and grants to public science centers, libraries and museums. Visit pittcon.org for more information.
About ATIV Software
ATIV Software offers EventPilot, the customizable mobile conference app for corporate event and association meeting planners. EventPilot is available as a native app for the iPhone, iPod Touch, iPad, and Android, as well as a mobile web version for all other web-enabled devices including Blackberry. For more information, visit ATIV Software.
###