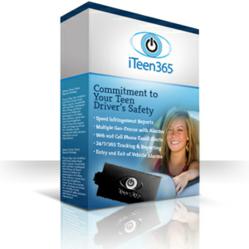 iTeen365 is the easiest and most reliable way for parents to monitor their teen drivers when they can't be in the car with them.
Chicago, IL (PRWEB) November 10, 2011
Any parent knows that handing over the car keys to their teenager can be pretty frightening. Teen drivers are at the highest risk on the road. iTeen365 is the easiest and most reliable way for parents to monitor their teen's driving when they can't be with them. With winter driving conditions just around the corner, this is a great time to install an iTeen365. In the spirit of giving, iTeen365 will be free with a 2-year service agreement ($29.95) plus installation ($65). This promotion is valid from November 15, 2011 through December 31, 2011.
iTeen365 is a unique 24/7 GPS-based vehicle monitoring system delivering real-time updates on location and route; email alerts when a teen is outside a designated area or if the car is being towed or stolen. It provides parents with instant access to speeding and driving reports that quickly build their teen's driving skills, confidence and safety.
"We know parents are busy. So, we've made the installation process as easy as possible. Simply purchase your iTeen365 product and we will ship it directly to an Authorized Installation Technician in your area that has been professionally trained on installing the product under the car's dash. This allows parents to set-up a time for installation that is convenient for them," said Lisa Wolf, Spokesperson for iTrack365, makers of iTeen365.
Key Features:

Tracking Data: Real-time visibility of vehicle's location.
Vehicle History Reports: Up to 4 months of detailed driving reports.
Mapping: Easy online map view of vehicle location via integrated Google Maps.
Speed Infringement Reports: Speeding infringements recorded in different speed zones.
Geo Fencings: Designate unapproved driving areas and locations.
Movement Alarms: Alerts any unapproved movement of the vehicle.
Notifications: Receive email alerts when vehicle leaves or comes into specified area(s)
"The iTeen365 monitoring unit is just one part of the solution. Combined with parental involvement and education, we hope to dramatically reduce teen fatalities," said Wolf. "To that end, we've designed our website to serve as an educational platform where parents and educators can find valuable information such as current facts and figures, tips for encouraging and modeling safe driving behaviors, the licensing process, the teens' commitment, insurance savings, and more."
From November 15, 2011 through December 31, 2011, iTeen365 can easily be purchased at http://www.iteen365.com for free ($289.95 value) with a 2-year contract agreement and paid installation. Mobile installation available in select areas. After purchase, iTrack365 will coordinate for convenient local installation.
About iTrack365, Inc.:
iTrack365 has partnered with one of the world's leading providers of telematics to offer a complete range of web-based GPS vehicle tracking and GPS fleet management solutions. Currently available in over 30 countries worldwide, the iTrack365 suite includes: iTeen365, iSenior365, iSpouse365, iFleet365, and iLease365. With advanced technologies, its own full end-to-end solution capabilities from the design of the hardware and software, to the web based hosting solution, iTrack365 has made this a convenient, user-friendly application for both individuals and companies of any size. For more information: http://www.iteen365.com / 866-900-2464
###