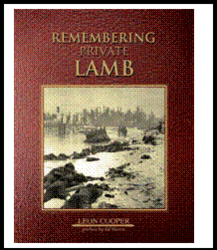 (PRWEB) November 10, 2011
Remembering Private Lamb, is a novel just published by Leon Cooper, a WWII combat veteran, based on one of his battle experiences.
In his Foreword to the book, Ed Harris, movie great, says the title character is based on a real live, vital young man who was one of the fallen, a fellow serviceman whose name has been changed. Lamb's story has haunted Leon throughout his life. Cooper has written this book aiming to answer the vital questions surrounding his death: Who was this man? What had his life been before it was taken from him? What were his dreams? His hopes? Private Lamb is thus a personal symbol for Leon of all those who lost their lives, not only in Tarawa, but in all of the wars ever fought."
Many years later, as a civilian, Cooper writes this book with a sense of urgency to solve the mysteries surrounding Lamb's life and death. Why did Lamb engage in such utterly reckless behavior during the battle? His medal cited bravery "above and beyond" the call of duty. Why was a Japanese officer buried in Lamb's grave?
Cooper goes to Tokyo to clear up these mysteries. While there, he falls in love with a Japanese widow and quickly finds his life—and his bride's--caught up in a campaign, passionately fought and fiercely resisted, to make Japan apologize for its war crimes.
In solving the mysteries, Cooper takes us to:
--An old Pacific battleground;
--A controversial Japanese shrine;
--A Japanese courtroom;
--A storied New England town.
"The case of the wrong body," Cooper learns, was a "coverup" by the government. He also learns that the Japanese officer, his bride's father, was the monster who commanded "The Rape of Nanking" and other horrors.
Cooper solves the other mystery. Private Lamb died in order to prove to his father that he had been misjudged—that he wasn't a coward, that he was as much a credit to his family's name as his father, General Lamb, had been.
Cooper decides that Lamb's remains are best left in the old battlefield, where he died. The remains of the Japanese officer are exhumed from Lamb's grave. Like evil Ahad of the Bible, his bones are chewed upon by dogs, then tossed into a furnace.
Remembering Private Lamb is available online at Amazon, at Barnes & Noble and at other outlets.
Paperback. 215 pages. Price $14.95. Published 2011.
ABOUT THE AUTHOR
Leon Cooper was a "90 Day Wonder," a WWII volunteer who received his commission in 90 days. Three of his four years' Navy service were in the Pacific. He was a landing craft officer, Boat Group Commander for his ship, taking part in six major invasions, landing assault troops on the beaches of the enemy-held strongholds of Tarawa, Kwajelein, New Guinea, Guam, Philippines and Iwo Jima.
In civilian life, Cooper has been CEOs and also the CFOs of major corporations. During a ten-year period his marketing company sold his patented products throughout the world. He is now a film producer, screen writer and a published author of three books about the Pacific War. A widower and father of five children, he lives in Malibu, California.
He received his Bachelor's Degree from the University of Illinois and did graduate studies at the University of Michigan.
MEDIA CONTACT for review copies and interviews:
Leon Cooper
leoncooper(at)verizon(dot)net
310-457-2832
http://www.rememberingprivatelamb.net
###