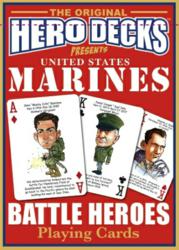 This Hero Deck is a celebration of the American fighting spirit
Cincinnati, OH (PRWEB) November 10, 2011
Hero Decks is proud to announce its newest HERO DECK - United States Marines Battle Heroes Playing Cards featuring 52 of the greatest U.S. Marines of all-time. Marines Battle Heroes, #57 in the HERO Deck line-up, celebrates the bravery and courage of some of America's most well known fighters including, Chesty Puller, Dan Daly, John Basilone and "Pappy" Boyington along with recent Medal of Honor recipient Dakota Meyer.
"This Hero Deck is a celebration of the American fighting spirit," said Holly Bradley, Vice President - The Thank You Foundation, which is sponsoring the Marines Hero Deck. The Thank You Foundation is a not-for-profit organization dedicated to Veterans, Service Members and their families.
"We are thrilled to have the chance to work with The Thank You Foundation on this Hero Deck," said David Krikorian Parody Productions founder and managing partner. "we support the foundations mission to give thanks to those who served, who are serving and their families".
The HERO BLOG from Hero Decks is publishing brief stories about each Marine featured in the Battle Heroes deck. "We wanted to provide background about each individual and why they were selected for this deck so the public could learn about these extraordinary Marines" said Krikorian.
About Parody Productions LLC
Founded in 2003, Parody Productions LLC produces playing cards and jigsaw puzzles for the retail gift industry. The Hero Deck line of playing cards is very popular among sports collectors and casual fans of all ages. Hero Decks and Marines Battle Heroes Playing Cards are licensed trademarks of Parody Productions LLC
http://www.herodecks.com/
About The Thank You Foundation
The mission of The Thank You Foundation is to show appreciation and express gratitude for members of the U.S. Military both past and present. The Foundation believes that saying thank you is not enough and that the words must be followed up with action and commitment.
The Foundation strives to improve the overall quality of life of Veterans, Service Members, and their families by focusing and supporting efforts in the areas of Education & Employment, Health & Welfare, and Morale & Recreation for the community it serves. For more information about how to support a Veteran or Service Member, please visit the foundation web site at http://www.TheThankYouFoundation.org or call toll free at 1-877-280-8893.
###