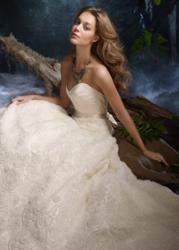 We know the ultimate Christmas gift for many future brides is to receive their dream wedding dress.
Los Angeles, CA (PRWEB) November 10, 2011
Robbins Brothers, The Engagement Ring Store and Mon Amie Bridal Salon announced their joint holiday sweepstakes, 12 Wedding Dresses for Christmas, which gives future brides a chance to win the wedding gown of their dreams. The companies have also teamed up to create a White Friday for consumers which celebrates the romance associated with the busiest shopping day of the year.
Enter for your chance to win a $1500 gift certificate for your wedding dress by visiting any Robbins Brothers store in Southern California, Dallas/Fort-Worth or Houston from November 1 through December 15. Contestants will be asked to complete a quick electronic form with a description of their dream wedding dress in 300 characters or less, and twelve winners, one per store, will be randomly selected and announced by Christmas Eve. Contest details and a copy of the official rules can be viewed at 12 Wedding Dresses for Christmas.
Robbins Brothers and Mon Amie will also introduce White Friday for the first time in the companies' history. While many consumers will set their alarm clocks for 3 am the day after Thanksgiving to catch Black Friday sales at clothing and electronic stores, thousands of women who expect a marriage proposal and engagement ring this year or are ready to begin wedding planning are invited to visit Mon Amie in Costa Mesa to check out the wide selection of exquisite bridal gowns for everyone's budget.
"We know the ultimate Christmas gift for many future brides is to receive their dream wedding dress," said Shawna Stanger, director of merchandising and buying for Mon Amie Bridal Salon. "We're so excited to partner with our friends at Robbins Brothers to help create a White Christmas for them." "Many couples get engaged over the holidays and once it happens the bride immediately begins to think about her wedding dress," added Diane Ferraro, director of advertising for Robbins Brothers. "We've established such a valuable relationship with Mon Amie and honored to help them award 12 lucky brides with their dream wedding gown. It reinforces the holiday spirit of giving."
About Robbins Brothers
An engagement and wedding ring retail company with freestanding stores located in Southern California, Houston, and Dallas/Ft. Worth, Texas, Robbins Brothers serves as the destination for couples in love. While the company specializes in engagement ring settings and loose diamonds, it carries an extensive selection of wedding bands, promise rings, anniversary bands, three-stone rings, earrings, pendants and bracelets. The company features designers including UTwo, Scott Kay, Simon G., Tacori, Verragio, Coast Diamond and Jeff Cooper. Onsite jewelers are available to set diamonds, design custom-settings and perform service and maintenance checks. Each location is furnished with a refreshment lounge and relaxation area, television and children's play area. For more information visit http://www.robbinsbrothers.com.
About Mon Amie
A third-generation family business with 35 years experience in the bridal gown industry, Mon Amie Bridal Salon is well-respected and trusted by brides to help them make the important emotional choice of choosing the perfect wedding dress. Behind the large 20,000 square foot façade, Mon Amie is dedicated to providing the highest level of quality, service & selection and presents one of the largest and most exquisite international designer collections on the West Coast. Over 50 designers are featured ranging from couture to more moderately priced gowns. In addition to bridal gowns, Mon Amie presents ensembles for the Mothers, Grandmothers, & flower girls dresses. Individual departments cater to the special needs of the wedding party and also provide a vast selection of shoes, lingerie, jewelry, headpieces, veils and other wedding day accessories. For more information visit http://www.monamie.com.
# # #