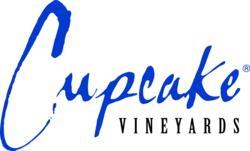 Few wine brands have garnered widespread acclaim and exponential growth as quickly as Cupcake Vineyards.
Livermore, CA (PRWEB) November 10, 2011
In just four years, Cupcake Vineyards has become one of the most successful brands in the U.S. wine market. That success has now been recognized by one of the leading industry awards, as the Market Watch Leaders gave Cupcake Vineyards the 2011 Leaders Choice Award for Wine Brand of the Year. The award was presented at the 2011 Impact Leaders' Summit held in New York City. The Leaders Choice Awards are voted on by a group of more than 250 retailers from across the United States who are surveyed annually by Market Watch's editors. This award has been given to one wine brand annually since 2005.
"Few wine brands have garnered widespread acclaim and exponential growth as quickly as Cupcake Vineyards," noted Michael Moaba, vice chairman of M. Shanken Enterprises, in presenting the award.
Based in Livermore, California, Cupcake Vineyards makes wines from top wine regions around the world, including California, New Zealand, Argentina, Germany, Australia and Italy.
"A big part of our success comes from the wines themselves," observed Adam Richardson, chief winemaker for Cupcake Vineyards. "They are authentic and true to their variety and region. They show a creamy palate that resonates with consumers. Cupcake wines are easy to enjoy and capture the finest qualities of the regions where produced."
Cupcake Vineyards launched nationally in 2008 with a Central Coast Chardonnay, Cabernet Sauvignon and Merlot. These releases were followed by a Marlborough, Sauvignon Blanc, a Petite Sirah from California's Central Coast and a Malbec from Mendoza, Argentina. Later, Cupcake Vineyards introduced a Mosel Riesling, a Barossa Shiraz, a Pinot Noir from California's Central Coast and an Italian Prosecco.
Due to its success with wines and the brand's appeal with millennial consumers, Cupcake launched 4 super premium vodkas earlier this year. Cupcake Original (a traditional vodka), Chiffon (Lemon), Devil's Food (Chocolate) and Frosting (Vanilla) vodkas are six times distilled and use only the finest grains and flavors to create a super premium taste. Each vodka carries a suggested retail price of $17.99 per 750ml bottle. For more information visit http://www.cupcakevodka.com.
Cupcake Vineyards offers wine enthusiasts a new way to reward themselves and live deliciously. Consumers can find Cupcake Vineyards wines at better grocery stores, specialty wine retailers across the nation and via the web. For more information visit the Cupcake Vineyards website at http://www.cupcakevineyards.com.
About Underdog Wine & Spirits:
Underdog Wine & Spirits, an unleashed unit of The Wine Group, is the champion of emerging brands for the new millennium: the "underdogs" of the sometimes stuffy wine and spirits world. We work with domestic and international producers to craft unique adult beverages that are a breed apart. The home of Cupcake, Fish Eye, flipflop, Big House and Octavin, our portfolio includes many of today's most dynamic growth brands. For more information about Underdog Wine & Spirits visit http://www.udws.com.
###