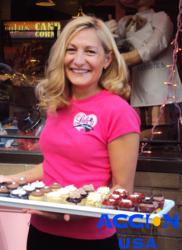 ACCION USA is honored to join American Express during Small Business Saturday in support of 21 million local, hard working and independently owned businesses that represent 80% of all U.S. businesses
New York, NY. (PRWEB) November 10, 2011
ACCION USA today announced its participation in the second annual Small Business Saturday on November 26, 2011. Small Business Saturday is a day for dedicating a portion of holiday shopping to local, independently-owned small businesses.
American Express, the founding sponsor of Small Business Saturday, created the national program in 2010 in response to small business owners' most pressing need: more demand for their products and services. The second event will build on last year's inaugural program that drove millions of dollars to main street merchants.
ACCION USA recognizes the importance of small businesses in the United States, the jobs they create and the culture they instill in local communities. Small businesses have generated 64 percent of net new jobs over the past 15 years and employ just over half of all private sector employees, according to the Small Business Administration.
"ACCION USA is honored to join American Express during Small Business Saturday in support of 21 million local, hard working and independently owned businesses that represent 80% of all U.S. businesses," said Paul Quintero, CEO of ACCION USA. "By channeling demand to these local entrepreneurs, Small Business Saturday creates a trickle up approach to economic growth, job creation and community vibrancy across the United States."
"We are proud to have ACCION USA join the Small Business Saturday Coalition," said Maryann Fitzmaurice, senior vice-president, American Express OPEN. "It is critical that we get as many supporters on board as possible to generate demand for small, independently owned businesses this holiday season and beyond."
To make it easy to their supporters, ACCION USA is setting up an online Holiday Marketplace on their website http://www.accionusa.org/shopsmall where supporters can browse and buy gifts directly from microentrepreneurs.
In Boston, ACCION USA food & beverage clients who have received a loan through the Samuel Adams Brewing the American Dream® program will come together to create a Small Business Holiday Marketplace at the Samuel Adams Boston Brewery from 10AM – 2PM on November 26th.
Joining the Annual Initiative
Social media will play a central role in helping raise awareness about the importance of supporting small business and recognizing Small Business Saturday. The Small Business Saturday Coalition will be driving consumers and business owners to facebook.com/smallbusinesssaturday where they can participate in many ways, including:

American Express is also giving $100 of free Facebook advertising1 to 10,000 business owners who sign up at facebook.com/smallbusinesssaturday to help build online buzz and drive customers to their stores on Small Business Saturday. By simply entering a few pieces of information and clicking a button, these business owners can create a personalized, geo-targeted ad that will run on Facebook leading up to November 26.
American Express is giving a $25 statement credit2 to 200,000 Cardmembers who register their Card and use it to shop on Small Business Saturday at any locally-owned, independent small business that accepts American Express.
Small business owners can go to Facebook.com/smallbusinesssaturday to download online promotional materials that will help them drive sales to their business on Small Business Saturday.
Everyone can spread the word about the day and their favorite businesses by giving a shout-out to their favorite local shops and restaurants via Facebook and Twitter.
Contacts:
Alejandra Boggiano, ACCION USA
646-833-4552 cell: 646-535-2254 aboggiano(at)accionusa(dot)org
Rosa Alfonso, American Express
212-640-1712; rosa(dot)m(dot)alfonso(dot)aexp(dot)com
Matt Hantz, M Booth
212-481-7000; matth(at)mbooth(dot)com
About ACCION USA
ACCION USA is a private, nonprofit organization that serves low- and moderate-income individuals, primarily minorities and women, who are unable to access mainstream business loans and financial services. A pioneer and recognized leader in the domestic microfinance field, ACCION USA is dedicated to providing microentrepreneurs and individuals on the economic margin with the crucial chance to access capital and develop greater financial literacy. ACCION USA is a member of the U.S. ACCION Network, the largest U.S. microlending network, with over $$272 million lent since inception in 1991. ACCION USA business loans range from $500-$25,000 and are offered nationwide via the ACCION USA online lending platform. For more information about ACCION USA's small business loan products, visit http://www.accionusa.org.
About Samuel Adams Brewing the American Dream
Twenty-seven years ago, Jim Koch, founder and brewer of Samuel Adams, dreamed of starting a microbrewery but lacked the means to make that happen. He applied for loans through traditional banks but was turned down every time. Then he found no distributor would carry his beer, a legal requirement for selling beer to retailers. But he didn't give up. He brewed Samuel Adams Boston Lager in his kitchen, took it bar to bar, and against all odds, Jim made his dream a reality. Even today he hasn't forgotten how hard it is for the "little guys" in the American business landscape who have a dream and a passion to get started. To help others do just that, he created Samuel Adams Brewing the American Dream. The Samuel Adams Brewing the American Dream philanthropic program was launched in June 2008, partnering with ACCION USA, the nation's largest non-profit microlender. The Samuel Adams Brewing the American Dream program is designed to provide low to moderate income small business owners in the food, beverage and hospitality industry with the essential ingredients to become financially independent and see their dreams of business ownership come true.
About Small Business Saturday
November 26th marks the second annual Small Business Saturday, a day to support the local businesses that create jobs, boost the economy and preserve neighborhoods around the country. Small Business Saturday (SBS) was created in 2010 by American Express in response to small business owners' most pressing need: creating more demand for their products and services. 1.5 million Facebook users, 130 public and private organizations, and 41 elected officials declared their support for SBS last year. 100,000 small businesses downloaded SBS marketing materials, 10,000 businesses signed up for free Facebook advertising that ran on SBS and 200,000 consumers registered their American Express cards to receive $25 statement credits when they shopped at a small business on SBS. In the first year, small retailers who accept the American Express Card saw a 28% increase in sales on SBS.
(1) To be eligible to receive $100 worth of Facebook ads, you must register your business at Facebook.com/smallbusinesssaturday. Registration is limited to the first 10,000 merchants. Limit one offer per registrant.
(2) To be eligible for the statement credit, you must register your eligible American Express Card at Facebook.com/smallbusinessaaturday. You may only register one Card for this offer. Using your registered American Express Card, you must spend $25 or more at participating small business merchants on 11/26/2011 to receive the $25 statement credit. Eligible merchants include any independently owned small businesses that accept the American Express Card. Purchases made online, at large, national chains, at franchised business locations and at government agencies are not eligible. Prepaid, corporate cards and ExpressPay transactions are not eligible. If your Card is replaced during the promotional period, please call the customer service number on the back of your Card for assistance. Registration is limited to the first 200,000 enrollees. Limit one statement credit per Cardmember. Statement credits are generally issued within five business days after your qualifying purchase, but may take up to two billing cycles to post to your account. Additional terms apply; see registration website for details.
###