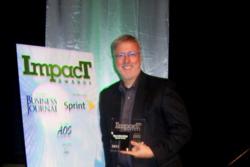 "...digital media has provided ... avenues for creative expression, overall brand integration and ... measurable results."
--Sam Meers
Kansas City, MO (PRWEB) November 11, 2011
Meers Advertising was honored today at the inaugural Kansas City Business Journal ImpacT Award luncheon for its use of technology to positively impact top-line growth. The full-service advertising/digital agency, which grew 465 percent from 2008 to 2011, was one of 15 Kansas City corporations recognized for the ability to leverage technology to bring organizational change.
Founder and President Sam Meers attributed the agency's growth during challenging times to a decision to embrace digital technology. As an example, he cited the development of a proprietary mobile messaging process for Blue Cross and Blue Shield of Kansas City to sell individual health insurance. The program, developed in partnership with Ron Rowe of BC/BS Kansas City, was so effective at reaching the desired 18- to 34-year-old demographic that other BCBS plans around the country have engaged Meers Advertising for similar marketing efforts.
"The explosion of digital media has provided us that many more avenues for creative expression, overall brand integration and thoroughly measurable results," Meers said.
The emphasis on digital media at Meers Advertising also contributed to its recognition on the Inc. 5000 list of fastest-growing private companies for 2011. At 1,436, Meers Advertising was the highest-ranked Kansas City, Mo., company named to the list. It ranked 134th in the advertising/marketing category.
The agency continues to grow with the addition of key staff, including the recent hiring of industry veteran Sheree Johnson, CBC, as director, business intelligence. Joining Johnson were channel marketing experts Allisyn Wheeler and Aubrey Ammon. Earlier this year, Meers hired top industry pros John Kreicbergs as director, digital strategy, and Brent Anderson as creative director.
In addition to its growing staff and growth from existing clients, Meers Advertising has also added several new clients to its roster. Over the past several months, The Kauffman Center for the Performing Arts hired Meers to develop and manage its customer loyalty program; and Starlight Theatre and Wellmark Blue Cross and Blue Shield tapped Meers to handle media planning and buying.
Meers Advertising staff and clients attended today's ImpacT Awards event, where Kansas City companies including UMB Financial, HCA Midwest Health System, Kansas City Southern, Sporting KC and three metropolitan area cities also were honored for leveraging technology to bring organizational change.
About Meers Advertising
Meers Advertising is a full-service advertising/digital agency headquartered in Kansas City, Missouri. The agency works to advance their clients' business by helping them solve marketing challenges through relevant, engaging and compelling communications to consumers. Meers is a member of the American Association of Advertising Agencies (4As). More information can be found at Meers.com.
###