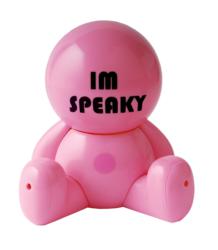 Bloomington, IL (PRWEB) November 10, 2011
Bluetrek Technologies (http://www.bluetrek.com), a pioneer in Bluetooth® wireless technology, today announced that it has been honored with two International CES Innovations 2012 Design and Engineering Awards in the Wireless Handset Accessories category for its Carbon™, world's first carbon fiber Bluetooth headset, and Speaky™, the most friendly Bluetooth car kit.
Products entered in this prestigious program are judged by a preeminent panel of independent industrial designers, engineers and members of the media to honor outstanding design and engineering in cutting edge consumer electronics products across different product categories. The Innovations Design and Engineering Awards are sponsored by the Consumer Electronics Association (CEA)®, the producer of the International CES, the world's largest consumer technology tradeshow, and have been recognizing achievements in product design and engineering since 1976.
"We are honored and proud to receive these industry recognitions that reward our accomplishment in bringing to market products that excel in design, innovation and value to our customers," said Henri-Nicolas Olivier, CEO of Bluetrek Technologies. "The Carbon and Speaky are just a couple of the exciting and innovative products Bluetrek will display at CES on January 2012."
Virtually unbreakable and remarkably comfortable, Carbon is the world's first carbon fiber Bluetooth headset that brings super light weight (5.9 grams) and incredible strength. Its fast connection time, Bluetooth 3.0 compliancy, and patented mechanism embedded in the slim carbon fiber microphone stem allow for extended talk time and crystal-clear conversations. Carbon can be worn for long periods with comfort and looks sharp. It is priced at $69.99. ((http://www.bluetrek.com/product_info.php?id=144)
Speaky is the new, fun-looking and entertaining hands-free Bluetooth mobile speakerphone. Speaky comes with personality, smarts and looks for crystal-clear hands-free cell phone conversations and music streaming. This mobile car kit speaks to you and answers when you push its belly. Speaky automatically turns itself on and off the moment you enter or exit your car and gives you friendly reminders to recharge. Available in pink or black, its easy-to-use interface ensures safe driving while answering and making phone calls. It also makes a fun and novel holiday gift. Speaky is priced at $69.99. (http://bluetrek.com/product_info.php?id=139)
For product information, please visit bluetrek.com or contact our sales team directly at sales@bluetrek.com.
Order today for 2011 Fall
Bluetrek products are distributed in the U.S. by Dr. Bott, The Douglas Stewart Co., Navarre
and Petra and available through retailers including Amazon, Buy.com, and eXpansys-usa.com. Place orders today from our authorized distributor or directly from sales@bluetrek.com.
Meet us at CES 2012, Las Vegas
Bluetrek's Carbon and Speaky products will be displayed at the 2012 International CES Innovations Design and Engineering Showcase at The Venetian, Venetian Ballroom, which runs January 10-13, 2012 in Las Vegas, Nevada. Bluetrek will be exhibiting at the Las Vegas Convention Center South Hall 2, Lower Level, booth number 26708-26709.
Bluetrek also welcomes members of the press to view Carbon and Speaky displayed at CES Unveiled: the Official Press Event of the International CES from 4-7 p.m. on Sunday, January 8, 2012 at The Venetian, Venetian Ballroom D. For press meetings with Bluetrek Technologies at the show, contact media@bluetrek.com.
About Bluetrek Technologies Limited
Bluetrek®, a pioneer in Bluetooth wireless technology, is an award-winning designer and manufacturer of Bluetooth headsets and other wireless devices. Blending world-class design with cutting-edge innovations and technologies, Bluetrek, is a leading supplier of Bluetooth solutions to the global market and has products available through distribution and retailers in more than 40 countries worldwide. Bluetrek, headquartered in Hong Kong, is an associate member of the Bluetooth SIG and CEA member.
Bluetrek is also a breeder for LostDog™, brand of stylish designer mobile and tablet protection accessories and saves energy with Osun's collection of eco-responsible chargers.
To learn more, please visit http://www.lostdog.co and http://www.osungoods.com
Editorial Note - High resolution images can be downloaded at:
Speaky : http://bluetrek.com/download_detail.php?id=139.
Carbon : http://bluetrek.com/download_detail.php?id=144.
Press Contact:
Michele Moninger Baker
+1 858-450-9872
Michele(at)mambocomm(dot)com
media(at)bluetrek(dot)com
Steve Muttram
+1 217-220-0895
Steve(dot)Muttram(at)bluetrek(dot)com
sales(at)bluetrek(dot)com
###