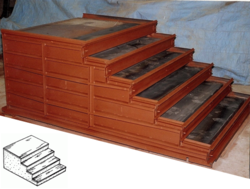 over 35 different  precast concrete forms and cement mold plans for the precast concrete industry
(PRWEB) November 11, 2011
Many precast concrete forms and cement molds can cost thousands to produce, then there are shipping costs on top of that. Now there is a new way for businesses in the precast concrete industry to reduce their overall costs on their concrete form needs. Gizmoplans offers over 35 different popular precast concrete steel form plans and precast cement mold plans on its information sharing website. Complete concrete form shop drawings are available on the website enabling precast concrete companies to download plans and build themselves or have them built locally. With the economy still struggling especially in the construction area, precast concrete businesses are looking for new cost effective ways to diversify and expand their product line. They need to continue to grow their business and are turning to Gizmoplans for inexpensive ideas and solutions.
It is a great concept for new business start ups, existing businesses, and for other construction related companies looking to add new products. Businesses that are not able or do not have the capacity to build themselves still save money and give a boost to their local economy by sourcing out the work to local fabrication companies. It gives a two fold boost to both businesses. 1) The precast concrete business saves money on the precast forms and concrete molds which enables them to expand their product line less expensively and 2) Supports their local fabrication and industrial supply companies by keeping the business and money in their local economy where their businesses thrive. With fewer construction opportunities available in the marketplace precast businesses are looking for ways to offer more and create new opportunities. The site offers many plans for precast concrete forms and cement molds such as parking curb forms, concrete planter forms, concrete fence post forms, and park bench leg molds. Some other plans for larger precast concrete forms include septic tank form plans, step form plans, and median barrier plans for highway construction. The site also offers concrete equipment plans used in the production lifting and hauling of the concrete items produced.
ABOUT US
Gizmoplans is a online informational website where businesses and individuals can download and build products from plans related to the precast concrete industry, woodcrafts, metal fabrication, hobbies and much more. Businesses and individuals can also upload and sell their plans and information creating a win win for both purchaser of plans and seller.. The site is not limited to just DIY Plans but any type of digital information can be bought and sold such as patterns, how to ebooks, self help and more.
# # #