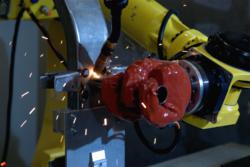 True benefits of welding automation for high-mix, low-volume can now be realized with the Adaptive Gripper because it grips it all.
(PRWEB) November 10, 2011
Robotiq is pleased to introduce the Adaptive Gripper and welding glove component for flexible fixturing welding applications at FABTECH 2011. As the first industrial dexterous gripper on the market, the Adaptive Gripper gives industrial robots "hand-like" capabilities to enhance their ability to handle a wide variety of parts in a welding environment through a rugged and simple design.
"The increasing rarity of welders led manufacturers to automate, but the pressure towards high-mix, low-volume part batches has made automation more complex and costly," said Samuel Bouchard – President of Robotiq. "Additionally, custom-made fixtures often create roadblocks to optimization. The goal is to provide the right tools so the true benefits of automation can be realized: improve productivity, welding quality and consistency."
The Application: Flexible Fixturing
Equipped with a heat and splatter resistant glove, the Adaptive Gripper can handle a wide variety of parts. Installed on a robot arm and connected to a vision system, the Adaptive Gripper can pick and position, with great precision, any type of bracket, pipe and irregular shaped part. Once positioned, a welding robot can proceed to weld.
Be More Competitive with the Adaptive Gripper
In an industry such as welding where there is a high-mix of small components to be welded, the Adaptive Gripper offers manufacturers the following competitive advantages:

Reduce the cost of production by eliminating custom made fixtures
Reduce production complexity by using only one reprogrammable tool to grip small components
Increase quality and consistency for high-mix, low-volume welding applications
Increase productivity by eliminating fixture changeovers
Provide the flexibility needed to have mix-model production
For more details on the Adaptive Gripper flexible fixturing welding applications click on the following link: http://robotiq.com/en/adaptive-gripper/applications/jig-less-welding-gripper.php
To see the Adaptive Gripper in action, please click on the following link: http://blog.robotiq.com/bid/48129/Flexible-Fixturing-for-Welding-Using-the-Adaptive-Gripper
Robotiq at FABTECH
Robotiq will be an exhibitor at FABTECH, booth #6369 – main aisle, North Building.
Samuel Bouchard, President of Robotiq, will also deliver a presentation at FABTECH titled "Universal Gripper for High-Mix, Low-Volume Robotic Handling" on November 16th at 2:15 PM at the FABTECH Theater, Grand Concourse Lobby – West Side.
About Robotiq
Robotiq is a robot components manufacturer based in Quebec City, Canada. Working in partnership with robot manufacturers, integrators and end users, Robotiq manufactures dexterous grippers that enable new applications to improve productivity.
Robotiq is a privately funded company founded in 2008.
# # #